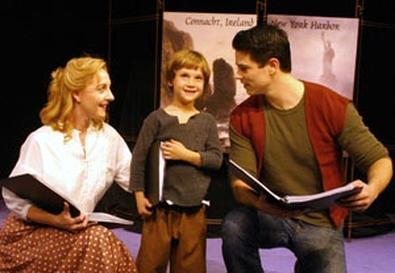 What was Abe Burrows smoking? That was the question reverberating in my mind as I exited Musicals Tonight!'s concert staging of "Three Wishes for Jamie," a 1952 Broadway musical that the great writer-director chose as his follow-up to "Guys and Dolls." A 10-ton pudding of Irish whimsy laced with sticky-sweet operetta romance, "Jamie" is about as far from Damon Runyon's New York as you could possibly get. Perhaps Burrows wanted a change of pace. Better he should've changed the show's pace, by slicing his reflexively melodramatic, dialogue-happy book way back and getting songwriter Ralph Blane to write some numbers that actually forward plot and dramatize character. Thank goodness director-choreographer Thomas Sabella-Mills has assembled a strong cast and staged the presentation with confident simplicity. At least you can enjoy the performers as your head shakes involuntarily to and fro in baffled wonderment.
The picaresque story is based on a novel by Charles O'Neal (Ryan's dad and Tatum's granddad), who co-authored the musical's book with Burrows. In 1896 Ireland, handsome young Jamie McRuin has somehow been betrothed by local matchmaker Owen Roe Tavish to the phenomenally unattractive and annoying Tirsa Shanahan. To avoid his fate, Jamie tries to commit suicide by leaping into the sea, but he's saved by a fairy queen, who grants him three wishes. Jamie asks for travel, a beautiful wife, and a son who speaks Gaelic. With the town thinking him dead, Jamie, in the company of Tavish, hightails it to Atlanta, Ga., where he has a cousin. There he meets Maeve Harrigan, who's promised to another. Jamie prevails, of course, but not before Tirsa and her father show up in hot pursuit. Tavish promises to find Tirsa another husband, and soon she's keeping company with the livestock-obsessed Dennis O'Ryan. The Act 1 curtain comes down on Jamie and Maeve's wedding, which is interrupted by her jilted suitor, who announces that Maeve's father told him that all the Harrigan women are barren. Will Jamie's third wish come true? Will Tirsa get her Dennis? Will Ralph Blane reprise the big ballad? What do you think?
Michael Mahany, who plays Jamie, is a real Irish tenor, which he uses to fine effect on Blane's best song, "My Heart's Darlin'." (John Raitt, who created the role, liked the song so much that he sang it at daughter Bonnie's wedding.) Mahany's light touch and spirited presence go far in drying out the oceans of twee dialogue. Rita Harvey is a lovely and centered Maeve, doing well by the score's most interesting—and virtually only—character song, the soliloquy "What Do I Know?" Jessica Wagner is altogether too attractive for Tirsa, but she compensates with a variety of comic shadings and the perfect annoying laugh (even if the creators have stolen the device from Gertie in "Oklahoma!"), while Douglas B. Giorgis is a nicely understated, sweet-natured Dennis. As the cheerfully manipulative Tavish, Gavriel Savit is about 30 years too young for the role (created by vaudevillian Bert Wheeler), but he compensates for it with winning joie de vivre and vibrant authority. And special mention must be made of young Zachary Unger, a last-minute replacement in the role of Kevin, a mute lad whom Maeve wants to adopt. The adorable Unger listens and reacts like a seasoned pro, always completely in the moment. He's to the stage born.
With its convoluted, plot-heavy book and generic, second-tier score, it's not hard to understand how "Three Wishes for Jamie" folded after only 91 performances. Musicals Tonight! is treating it with loving care, but you can't resuscitate the stillborn.
Presented by Musicals Tonight! at the McGinn/Cazale Theatre, 2162 Broadway, NYC. Oct. 26–Nov. 7. Tue.–Sat., 7:30 p.m.; Wed., 2 p.m. (Additional performance Sun., Nov. 7, 3 p.m.) (212) 579-4230 or www.iseats.net. Casting by Stephen DeAngelis.