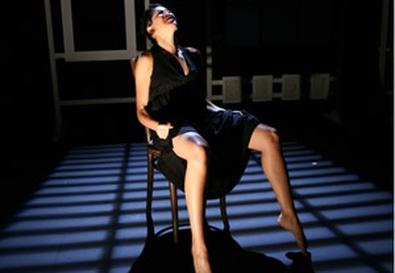 Subtitled "A Monologue for Three Voices," "Three Women" was the only play written by the suicidal poet Sylvia Plath. Forty-five minutes in length, it was originally performed on BBC radio in 1962. The British company Inside Intelligence has brought it to 59E59 as part of a mini-Plath festival, along with the solo show "Wish I Had a Sylvia Plath."
The brief work consists of three female voices referred to only as The Wife, The Student, and The Secretary describing their experiences with childbirth in beautiful language. Those familiar with the author may hear echoes of her bouts with depression and her stormy marriage to fellow poet Ted Hughes—one of the women rails against male "flatness." There is no interaction among this trio, no specific storyline beyond a few elusive fragments, no conflict or dramatic action. To bring this eloquent but essentially untheatrical material to life is a challenge. Director Robert Shaw and his cast fail to meet it.
Francis Benhamou, Kina Bermudez, and Angela Church speak Plath's poetry with clear diction but no passion, and Shaw's staging is as minimal as the character development. There is no reason to care about these sketchy creations and no action to follow. The whole quick production left me cold and bored.

Presented by Inside Intelligence at 59E59 Theaters, 59 E. 59th St., NYC.Oct. 12–31. Tue.–Wed., 7:15 p.m.; Thu.–Sat., 8:15 p.m.; Sat., 2:15 p.m.; Sun., 3:15 p.m. (212) 279-4200 or www.59e59.org.