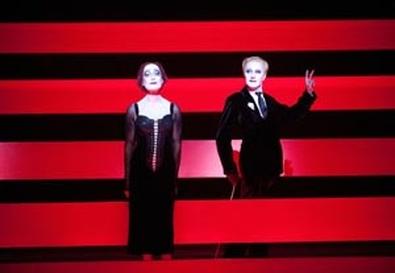 Robert Wilson and Bertolt Brecht are a match made in avant-garde theater heaven. The unconventional director and the iconoclastic playwright meld in a bizarre, farcical, and strangely beautiful production of Brecht and Kurt Weill's 1928 masterpiece "The Threepenny Opera," now in a shockingly short run as a part of the BAM Next Wave Festival. Performed by the Berliner Ensemble, the company founded by Brecht and his wife, the actor Helene Weigel, in 1949, and spoken in the original German with supertitles, Wilson's staging is a cold clown show. Influenced by silent films, the Expressionist movement in art, and Weimar-era cabaret, the production is frankly presentational with the company members in whiteface, and moving in exaggerated, Chaplin-esque style to obvious sound effects.

The viciously satirical story of Mack the Knife and the whores and beggars struggling to make a dishonest coin in London's Victorian underworld is told against a minimalist backdrop with a variety of startlingly arranged lighting patterns. The opening number, "The Ballad of Mack the Knife" is nothing like the pop version, but rather an intoxicating rogues' gallery of nightmarish figures as the entire cast parades like sideshow denizens on a midway.

Occasionally Wilson indulges his fondness for glacial pacing—the first act clocks in at two hours before intermission—but it somehow works. For example, in the brothel scene, several minutes go by as an aging prostitute (the elegantly shabby Ruth Glöss who looks like she stepped out of a Toulouse-Lautrec canvas) slowly counts cards while her fellow ladies of the evening strut about like ostriches to Weill's eerie and evocative music. The sequence is reminiscent of Wilson and Philip Glass's "Einstein of the Beach" with its libretto composed of numbers and snail-like staging. It's like a moment from a dream and fits perfectly into Brecht and Wilson's eerie overall vision of the world as a cruel circus.

Like Alan Cumming in the uneven 2006 Roundabout production of "Threepenny," Stefan Kurt is a sexually ambiguous Mack the Knife. Got up like a Marlene Dietrich impersonator in a pinstripe suit covering a corset, Kurt is both roughly masculine and bewitchingly feminine. He meets his match in Stefanie Stappenbeck's Polly Peachum, a combination kewpie doll and cobra. In the famous "Pirate Jenny" number, she effortlessly transitions from innocent young virgin to bloodthirsty murderess. Equally captivating is Angela Winkler who plays Jenny, the whore who betrays Mack to the police, like a child who has broken into mommy and daddy's liquor cabinet. Rather than the tough old broad we usually get, this Jenny still believes in love and has been traumatized by her previous affair with Mack (as explained in "The Pimp's Ballad," hauntingly delivered by Kurt and Winkler). Winkler's rendition of "Solomon's Song" is a tragic yearning for the past rather the anthem to cynicism most actors make it. Jürgen Holtz and Traute Hoess are a pair of sinister buffoons as Mr. and Mrs. Peachum.

If you can score a ticket, this "Threepenny" is definitely worth the price. Students of acting should experience it to see how they express passion and satire beyond Broadway.

The Berliner Ensemble production presented by BAM as part of the BAM 2011 Next Wave Festival at the BAM Howard Gilman Opera House, 30 Lafayette Ave., Brooklyn, NY. Oct. 4 – 8. Tue. – Sat., 7:30 p.m. (718) 636-4100 or www.bam.org.