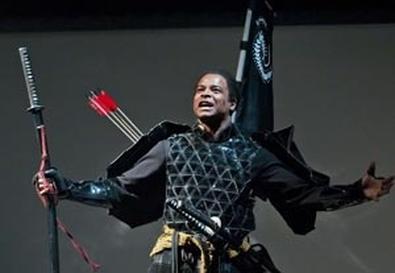 Ping Chong is an ambitious man with a daunting task: staging a theatrical adaptation of Akira Kurosawa's seminal 1957 film "Throne of Blood." Itself a no-nonsense adaptation of Shakespeare's "Macbeth," Kurosawa's film forgoes the bard's verse in favor of striking apocalyptic imagery set amid the misty slopes of Mt. Fuji in feudal Japan. In Chong's version, which premiered at the Oregon Shakespeare Festival and now arrives at Brooklyn Academy of Music, he attempts to reinsert the stage theatricality of the Shakespearean original while preserving the sparse flavor of the samurai adaptation. Unsurprisingly, the renowned Chong succeeds and then some, offering a production that is confident, visually sophisticated, and, like its main character, downright ambitious.
As in the film, the action is set at Spider Web Castle, here represented by set designer Christopher Acebo's crisp tapestries, video and projection designer Maya Ciarrocchi's dreamlike imagery, and sound designer Todd Barton's ever-present gusts of wind and cackling ravens. As though these supernaturally austere environs weren't bleak enough, the High Lord Kuniharu (Jonathan Haugen) receives word that several of his generals have gone rogue but not to worry, because the valiant warriors Washizu (Kevin Kenerly) and Yoshiako Miki (Danforth Comins) have things under control. On the way back to the castle, Washizu and Miki encounter a forest spirit, a loom-spinning ghoul played by Cristofer Jean and made more unnerving by a giant projection of closed eyes. The spirit prophesies that Washizu will one day be High Lord himself. At the urging of his insidious wife, Lady Asaji, played with unnerving detachment by Ako, Washizu reluctantly takes his destiny into his own hands and murders anyone standing between him and the throne.
To liven up the brusque, almost procedural air of Kurosawa's film, Chong integrates some frenetic Noh theater choreography and a few whimsical flourishes in Stefani Mar's costume design, such as adding crab claws to a traditional kabuto helmet. Though the production is in contemporary English, Chong adds snippets of both Japanese and "Macbeth" to great effect, most notably in Lady Asaji's sleepwalking scene, which is masterfully performed in Japanese without subtitles. Kenerly's composed Washizu, like Toshiro Mifune's portrayal in the film, is far more sympathetic than Shakespeare's vengeful Scotsman, even in his final wretched moments.
Presented by Brooklyn Academy of Music as part of 2010 Next Wave Festival at the BAM Howard Gilman Opera House, 30 Lafayette Ave., Brooklyn, N.Y. Nov. 10–13. Wed.–Sat., 7:30 p.m. 718) 636-4100 or
www.bam.org
.