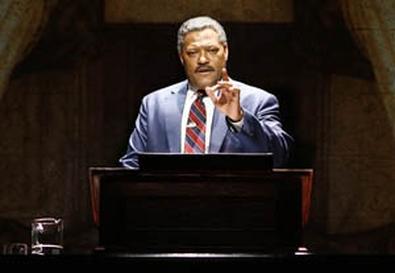 America's racial policy of "separate but equal" galled a young black man named Thurgood Marshall no end. Aside from its reprehensibility, the policy was unworkable and was never fairly applied. Fortunately, he came equipped for battle. His great-grandfather was a slave so ornery he was set free, his grandmother sat on her sidewalk for days to keep the power company at bay, and his daddy taught him to argue every point. So, from a young age, Marshall was destined for a career in the law. But his innate intelligence, work ethic, commitment, sensitivity, and endearing personality brought him all the way to his position as the first African-American justice on the U.S. Supreme Court.
It's time to remind the old folks and show the younger ones not only who Marshall was but also how far "doing the right thing" can carry a person. George Stevens Jr.'s one-person script is full of tales of hard work and plain luck, of a man who had to live his life to reach the top. And each step is beautifully embodied in this production by Laurence Fishburne in a bravura performance.
Leonard Foglia's subtle but highly effective direction uses imperceptible transitions to change eras, character ages, even costuming (save for one ungainly moment when a stagehand arrives with the justice's robe). Rings slip on unnoticed; the cane and thick eyeglasses that physically defined Marshall in his elder years gracefully disappear and reappear as the stories unfold. So, too, Fishburne's physicality changes softly and subtly. The gravelly voice of the older justice seamlessly regresses to the booming, compelling speech of the younger man, while Fishburne begins to bound across the stage. When he recites the first section of the 14th Amendment, it reflects the poetry of an actor and the understanding of a scholar. The young Marshall triumphantly punches the air; the elder one has a shoulder-shaking chortle.
While Marshall argues his cases before the nine-justice panel, nine squares of light appear across the stage's apron. Behind him, projections (that have included slatted blinds and prison yards, all against a perhaps symbolically all-white—some might say color-free—American flag) include the towering columns of the courthouse. They also include a painting of terrifyingly glaring old white men, 18th-century early arguers of the Constitution, ready to pounce. America has moved on, and this production shows us an effective, civilized way of making that happen.

Presented by and at the Geffen Playhouse, 10886 Le Conte Ave., Westwood.
July 7–Aug. 8. Tue.–Fri., 8 p.m.; Sat., 3 and 8 p.m.; Sun., 2 and 7 p.m.
(310) 208-5454. www.geffenplayhouse.com.