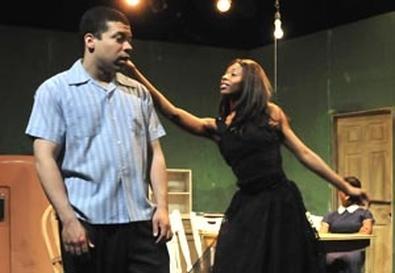 A lot is lifted from Tennessee Williams in Peter S. Feibleman's bitterly pessimistic 1962 play, complete with a homebound young man with wanderlust, a sister who has migraines instead of a limp, and an overbearing matriarch who cherishes a framed telegram informing her of her son's death rather than a photo of a husband who fell in love with long distances. Why, there's even a gentleman caller bearing sunflowers rather than a penchant for public speaking.
Missing only are a few well-placed moments for Mama Morris (Regina Randolph) to tell her grumbling son, Clarence (Damien Burke), to "Rise and shine!" Moreover, this too is a memory play, although the memories here are false, lies perpetrated by this fiercely territorial bulldog mother or created by a son who inherited her proclivity for make-believe.
This flawed play, inferring that the African-American experience in the South post–World War II presented more struggle than future, is rife with missed possibilities. Despite not offering any resolution to his play's timidly under-explored overlying concept, Feibleman has a knack for lyrical Williams-esque dialogue but seems unfamiliar with dramatic construction. Characters careen in and out of more slamming doors than in "Lend Me a Tenor" and spout endless lame excuses to send people out of the room so others can whine about broken dreams and unrequited expectations. "I can't seem to get nuthin' to grow," wails Mama, leaving little doubt that metaphors can be so obvious they're almost funny.
Despite the play's structural flaws and melodramatic traps, director Sam Nickens leads a cast that succeeds in making us care about the troubled Morris clan. Randolph is a powerhouse, able to lift the emotional armor Mama has fashioned for herself to give brief glimpses of the vulnerability and hurt within, and DaShawn Barnes is outstanding as Cille, the daughter who has traded a glass menagerie for headaches. Burke is physically miscast yet has genuine moments despite his character's scripted inarticulacy and tendency to sulk. Two striking supporting performances by Collin St. Dic, as Cille's gentleman caller and a brief turn as a horny G.I., make one wonder what he might have brought as Clarence.
Presented by Upward Bound Productions at the Stella Adler Theatre, 6773 Hollywood Blvd., Hollywood. Apr. 14–May 22. Thu.–Sat., 8 p.m.; Sun., 3 p.m. (323) 960-7740. www.plays411.com/tiger.