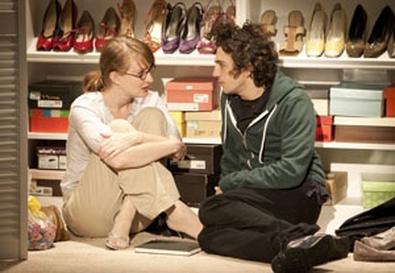 There seems to be a common trait among talented contemporary playwrights: the ability to seamlessly combine comedy and drama. Theresa Rebeck, Lisa Loomer, Sarah Ruhl, David Lindsay-Abaire, Annie Baker, and a handful of others have produced bodies of theatrical work that reflects the wild absurdity of modern society along with the profound sadness and disconnection it causes. Add Kim Rosenstock to this elite group. Her new play "Tigers Be Still," presented as part of the Roundabout Underground series, offers a painfully funny portrait of ordinary people trying to make their way in a suburban wasteland, stalked by the tigers of depression.
There is a literal orange striped giant cat prowling around the edges of the play, an obvious symbol of the mayhem that can attack at any moment, but Rosenstock never overplays her metaphorical hand, keeping the huge tabby at bay until the proper moment. The tiger has escaped from a nearby zoo and its constant menace parallels the precarious condition of the characters' lives. Take Sherry (the adorable Halley Feiffer), a nerdy art teacher who has never had a job or a boyfriend. She's struggling not to give in to the despair that has engulfed her sister Grace (the hilarious Natasha Lyonne), who has refused to leave the couch since her fiancé dumped her for a podiatrist, and Sherry and Grace's offstage mother, who has refused to leave her bedroom since her husband fled when she gained 60 pounds due to an illness.
When Sherry finally finds employment at the school where Joseph (the moving Reed Birney), her mother's prom date, is now the principal, she forms an unlikely bond with Zack (the marvelously deadpan John Magaro), Joseph's slacker son, who is also dealing with a particularly harsh blow: His mother has died in an automobile accident. Rosenstock infuses her bizarre scenario with a plethora of quirky details, prompting laughter and empathy. Grace kidnaps her ex-boyfriend's Chihuahuas for revenge and keeps them locked in the cellar. Joseph calls to cancel his late wife's yoga magazine subscription and gets into an argument when he can't bring himself to tell a total stranger she's dead. Zack spends too much time in his mom's enormous shoe closet, falling asleep while clutching her footwear. Sherry uses a karaoke machine to express her feelings of despair. Each of the moments—and many others—has the feel of real, messy life sharply observed.
Director Sam Gold expertly keeps the comic and tragic elements in perfect balance, as does his quartet of fine actors. "Tigers Be Still" is a funny, ferocious, saber-toothed play you should pounce on.
Presented by Roundabout Theatre Company as part of Roundabout Underground at the Harold and Miriam Steinberg Center for Theatre/Black Box Theatre, 111 W. 46th St., NYC. Oct. 6–Nov. 28. Tue.–Sun., 7 p.m.; Sat. and Sun., 1:30 p.m. (212) 719-1300 or www.roundabouthteatre.org. Casting by Carrie Gardner.