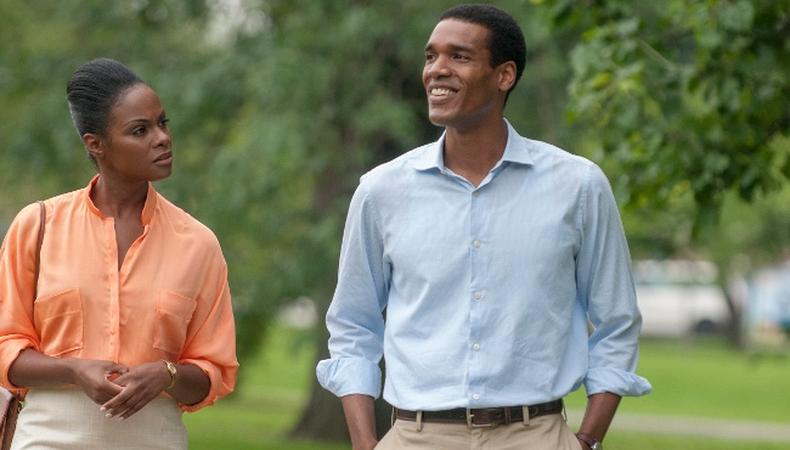 "Southside With You" is either a rom-com about two real-life public figures or a biopic highlighting one romantic moment in those figures' relationship. Regardless, it is certainly the only feature film in existence about the first date between a sitting U.S. president and first lady.
For that reason alone, Tika Sumpter was drawn to it. "I was given a synopsis of this would-be film at the time, a one-page treatment of what it was about," the actor remembers. "I was like, Oh my God. Then I heard this director-writer wanted to meet me—and [for me to] play Michelle Obama."
That director-writer was Richard Tanne, whose idea was to render Barack Obama and Michelle Robinson's first date in 1989 Chicago as an intimate feature film. The Sundance Film Festival hit draws inspiration from real facts about the afternoon and evening they spent together, but also from the kinds of moments that mark the beginnings of romance between two ordinary, flawed human beings. "We didn't want to do a wink at the presidency," explains Sumpter. "It's almost like you're a fly on the wall with them."
Tanne's vision for the project was so clear, she adds, that she agreed to see it to fruition as a producer. "I said, 'Listen, even if I didn't get to play Michelle Obama, this has to be made, because it's that good.' Richard is a smart writer-director, and easy to talk to. Once he explained his vision, I trusted him."
READ: "3 Tips for Portraying Real People"
So what does being a first-time producer entail? "I had no idea what it took," says Sumpter. "Thank God I like putting puzzles together. When I'm passionate about something, I can make it work and get it done." In this case, the process began with making sure the story evolved from one page to a feature-length script. Sumpter remembers nagging Tanne, as often as she could, about writing. "I would call him every week to check up on him!"
Producers must also mediate between creatives and funders—one of the biggest pieces of the "Southside With You" puzzle, she says. "The thing with producing is not letting your vision be swayed by what other people think it should be. Yeah, there is some compromise. But if you go in and say you're going to make 'When Harry Met Sally...' or 'Before Sunset' and they say, 'No, we wanna make "American Pie," ' you gotta say no. Not all money is good money. That's what I believe. You've got to stick to your guns and stay strong."
As for playing Michelle Obama, née Robinson, Sumpter says she and Tanne tried to capture "the essence of her rather than an imitation." And although the film ends on a gorgeously romantic note—Barack (played by Parker Sawyers) leaning in to kiss Michelle as she eats chocolate ice cream—the team focused on avoiding the clichés of a standard rom-com.
"[Tanne] wanted to make sure I played a character that's complex," says Sumpter. Her Michelle is prickly and assertive, but radiates intelligence to the point of empathy. "She says every word and means every single word and enunciates everything. She's a woman I think that anybody would want to be at 25.
"Women constantly say sorry," Sumpter adds. "We apologize for everything! She was unapologetic for who she was. She was vulnerable sometimes, sure, but her family raised her with such security." It's one of the first lady's qualities Sumpter sees in herself, especially as she continues charging forward in her acting career—and now as a producer, too.
"Some people tell me you shouldn't be so aggressive about getting stuff done. I'm like, Why not? Men are not told that ever. I really love that about Michelle. When I see her, I see a lot of women."
Want to star in a Sundance hit? Check out our film audition listings!