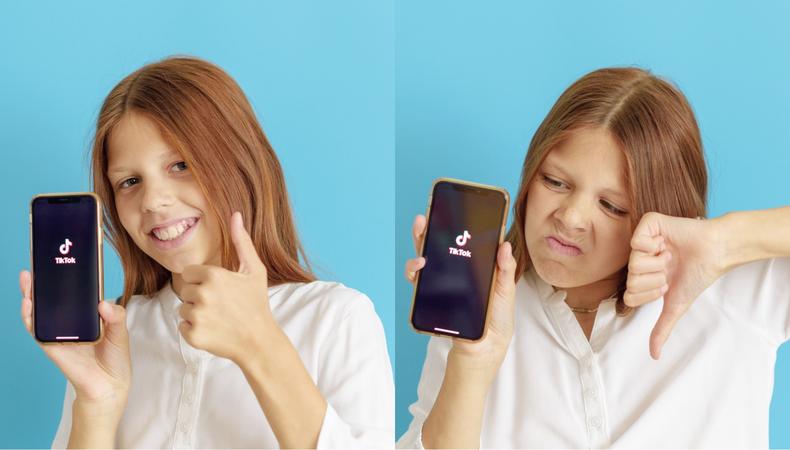 TikTok seemed like a Gen Z fad at first, but it has held its spot as the most-downloaded app for the past three years. With its focus on entertainment and its ability to catapult content creators from obscurity to stardom, you may be wondering whether TikTok is the right platform for you.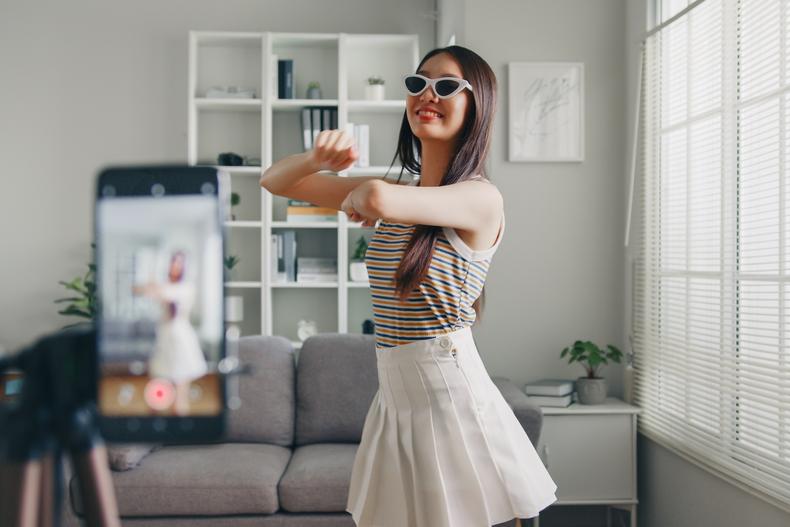 Luiza Kamalova/Shutterstock
A global audience
TikTok has over 1 billion monthly users, spread out over more than 140 countries and 35 languages. What's more, 90% of users go on the app multiple times a day, with U.S. users averaging 858 minutes per month on the app browsing videos.
With such a vast and highly engaged user base, success awaits those who can create great content to attract an audience.
Targeted TikTok ads for maximum results
TikTok's self-serve ad platform allows you to target your ads to different audiences to help grow your brand.
There are five ways to target your ads:
1. Audience
This option allows you to retarget users who already know or have previously engaged with your brand.
There are various data points that it can use:
Customer File uses your data to identify the TikTok users who have shopped with you before, allowing you to personalize remarketing campaigns for repeat business.
Engagement targets people who have previously shown an interest in your brand, clicking on or viewing your ads.
App Activity targets those users who have completed certain events within your app, including Install, Launch App, Add to Cart, etc.
Website Traffic targets those users who have previously visited your website and taken specific actions, including Page View, Subscribe, Place an Order, etc.
Lead Generation targets people who have interacted with your lead ads on TikTok. You can retarget users who have viewed or submitted a form.
2. Location
This option targets users based on location such as country, region, state, and province, allowing you to target different ads to different cultures.
3. Interest
This option targets users based on their long-term content consumption, interactions, and what they are most interested in seeing on TikTok.
4. Behaviors
This option targets users' recent in-app behavior based on their Video-Related Actions (videos they've liked, commented on, etc.) and Creator Following Actions (the creators users have searched for or visited the homepage of).
5. Device
This option targets users based on device-specific categories, including their operating system (Android or iOS), device model, and device price.
Once you've pinpointed your target audience, you can use TikTok's Automated Creative Optimization (ACO) to upload multiple images and videos with text descriptions and CTAs (calls to action). ACO will launch ads with different combinations of these assets, delivering them to different audiences to find the highest performing combinations, reducing the need for A/B testing and extending the life of your ads.
Enthusiastic Gen Z audience
Reaching your Gen Z audience can be tricky, but with a combined disposable income of over $360 billion, they're worth seeking out.
Although TikTok's audience is aging up, 47% of all TikTok users fall in the 10–29 age bracket. TikTok's youngest users, ages 4–15, spend a whopping 75 minutes a day on the app. This engagement converts: TikTok reports that users who interact with a brand on the platform are 150% more likely to buy a product or service from them.
Gen Z values authentic content and genuine connection. As a brand, it's up to you to wear your brand values on your sleeve and share relatable, authentic content with your audience. It's also "important to tailor your advertising message to a younger generation", says Iñigo Rivero, managing director of TikTok marketing agency, House of Marketers.
Creative audience engagement
Going viral has never been easier. TikTok's algorithm helps users discover new content that resonates with them. It doesn't recommend content based on follower counts or a history of high-performing videos. Instead, it recommends videos based on an individual user's interactions with the app via the For You Page.
That means everyone—including brand-new users—has the same chance to go viral, which is why TikTok's algorithm is ideal for brands and content creators who are new to the platform.
TikTok helps content creators by providing fun, built-in functions for your audience to engage creatively with your brand:
Stitch: Users can trim and add bits of your videos to their own. The original content creator is credited on every Stitch, amplifying your reach.
Duet: Users can incorporate your videos into their own. The videos play side-by-side, giving users a chance to film their reactions to your content or join in with viral challenges.
Sounds: You can add your original sounds to the library for other TikTokers—a must for brands and corporations who are limited to royalty-free music. It's an excellent function for music producers, but brands such as Asos have also created viral sounds.
"The brands selling the most are producing TikTok creator-led content and then utilizing the audience engagement features that TikTok provides to build highly engaging campaigns," says Rivero.
TikTok Creator Marketplace
Tap into the global community of artists, creators, and influencers who create and share videos on TikTok via the Creator Marketplace.
Partnering with creators will help your brand get seen by millions of potential customers and boost brand awareness. TikTok makes it easy to browse and connect with the influencers you want to work with on your next campaign, saving you time and money.
To guarantee results and sales you must "make sure the creator's audience is a good fit with the audience who usually purchases your product," says Rivero.
In-app shopping experiences
TikTok wasn't originally a shopping platform, but an independent study conducted by Neuro-Insight found that TikTok drives higher levels of receptiveness to brand messaging, calls to action, and breakthrough ads. It also found that TikTok's in-feed ads achieve 23% better detail memory than TV ads. (Detail memory involves our response to the minutiae of an ad; a strong response means the audience retained information such as a logo, call to action, or tagline.)
TikTok's overall engagement rate is 15% stronger than other leading platforms. TikTok has since integrated Shopify to drive sales from this engagement. Users can now browse and buy products directly in the app or via the brand's website, and influencers can add affiliate links to earn commissions.
This shopping experience creates a full circle: users see the ad and buy the product on TikTok, then return to TikTok to share their experience, further fueling a product's popularity.
Trackable ad performance
TikTok Ads Manager makes tracking your ad performance easy. You can track, measure, and evaluate the results of every ad you run and use this data to improve your subsequent campaigns.
It includes metrics for impressions, conversions, click rate, conversion rate, and cost, alongside valuable audience dimensions, including gender, age, country, and interest.
Use TikTok's ad targeting tools for retargeting custom audiences, and once you have an audience of more than 10,000 people, you can start to leverage the data from your existing audiences to target Lookalike Audiences.
This clever algorithm looks at the attributes of your custom audiences and finds users and groups who share similar characteristics, allowing you to grow your following based on the users who are engaging with your brand.
Luiza Kamalova/Shutterstock
It might break the bank
TikTok Ads Manager is an effective platform, but the minimum spends are pricey. Smaller brands and content creators may have to think twice before launching an ad campaign.
Let's take a look at what it costs:
Brand takeovers: Minimum of $50,000 a day (5 million impressions guaranteed)
In-feed ads: $10 per 1,000 impressions (minimum spend: $500)
Hashtag challenge: upwards of $150,000 for the whole campaign
Branded filters/lenses: $80,000 per day
Only videos can make the cut
TikTok is a video-first and mobile-first platform. Images don't perform well in this space. It's best to shoot videos with a 9:16 aspect ratio, but 1:1 is also possible.
While these constraints may be limiting, TikTok recently increased video length from three to 10 minutes long. You now have even more time to inform, entertain, and engage your audience. This is "ideal for creating organic content because it gives brands the opportunity to engage more with their followers," says Rivero—but it could also increase production costs.
You'll hear crickets if your audience isn't on TikTok
While TikTok's 1 billion monthly user base sounds like a safe bet for practically any brand or content creator, you may not get the response you were hoping for.
Currently, TikTok's audience skews young and female—53% of all users are between 18–25 years old, and 57% are female. Recent trends show an increase in the age of TikTok's audience, and some brands are reporting a good response when advertising to users aged over 45. However, only 11% of TikTok's U.S user base is over 50.
"It might seem difficult for brands that target audiences over 25 years old to get results on TikTok, but using the right influencers, and the right content, it's proven that they can achieve great results," says Rivero.
If you're new to marketing to younger audiences, "start by generating organic content to see how the TikTok community reacts and whether there's enough interest in your product before investing more."
Safety concerns for child-focused brands and content creators
If you're working with a brand for children or teens, or are looking to partner with a young content creator, this section is for you.
With a large Gen Z user base, TikTok seems like an optimal place for child-focused brands to grow and build partnerships with young content creators. Here are five points to evaluate when targeting younger audiences—either with branded content or creators—on TikTok:
1. Highly Addictive
You only have to look at the usage stats above to see how irresistible TikTok is—and a 2022 study found that 5.9% of TikTok users are at risk of tipping over into addictive behavior. The research showed that people under the age of 25 are particularly susceptible, as their ability to implement impulse control has not yet fully formed.
2. Unethical beauty standards
Body checks trend regularly on TikTok. These videos encourage users to compare their bodies to others. Often the top-rated videos show very little body or cultural diversity and inadvertently promote Eurocentric beauty ideals.
Teenagers consume this kind of content, which can lead to a negative self-image, body dysmorphia, or poor mental health.
3. Cyberbullying and harassment
TikTok users can remain anonymous, which unfortunately makes it appealing to those who want to harass and bully others from different communities, religious backgrounds, and beliefs. According to cyberbullying research, young children—ages 10 to 18—have a 64% chance of encountering cyberbullying on TikTok.
4. Predatory behavior
TikTok's attempting to crack down on this, but sexual predators use the platform to groom and send explicit messages and images to underage children.
5. Privacy concerns
Child content creators may accidentally share something that reveals more about their lives and where they live than intended. Ensure young creators aren't sharing identifiable personal landmarks like street signs, house numbers, or their school.
You'll lose control of your brand messaging
Gen Z loves authentic content, so handing influencers your advertorial to copy and paste won't fly on TikTok. Plus, you'll lose credibility and damage your brand image if you get caught.
To avoid disaster, research the influencers you want to work with to ensure their reputation fits your brand, and hand over control of your brand messaging to the influencers you're partnering with. Let them advertise your products in their words.
That may sound scary, especially for brands used to executing laser-targeted campaigns, but it's the only way to keep that content authentic.
This is why it can be beneficial to "work with a marketing agency that can put together a creative idea and guide the influencer in the content creation process. Brands then approve the idea and the script the influencer is going to use to avoid disappointment," says Rivero.
Now that you've weighed up the pros and cons of TikTok advertising, is TikTok the right platform for you? If sharing entertaining videos fits your voice and you're looking to reach Gen Z, then the chances are that TikTok, with its vast audience and meritocratic algorithm, is an excellent place to grow your brand. It might be time to start making TikTok ads that get you noticed.