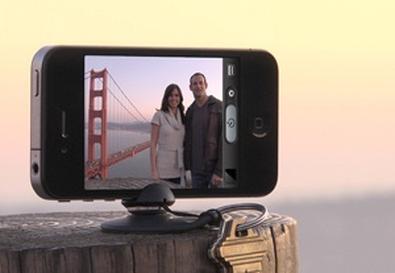 What It Is
Tiltpod
What It Does
Provides Small, Steady Base for Any Camera
Where to Buy It
Manufacturer's Web Site, Amazon.com
What It Costs
$14.95
Can anyone remember a world without YouTube? The video sharing super-service has only been around for seven and a half years, but it's already revolutionized the way we share content online—and actors have never had it better. It easier than it's ever been to get your name, your face, and your talent out there. But if this is a dazzling opportunity for all performers longing to show how they shine, it also presents a huge challenge: Any video you make of yourself has to look good. One thing that can help: Gomite's Tiltpod ($14.95).
The Tiltpod is a portable tripod (measuring about 0.3 by 1.5 by 2.1 inches, HWD) that's small enough to fit in your pocket, or stay permanently attached to the wrist strap of your compact camera. (It's designed to also work with Flipcams, but not higher-end SLR or DSLR cameras.) Just attach it to the tripod mount on the bottom of your camera, and you're good to go. It uses a non-skid base to stay put almost anywhere, and a powerful nickel-plated magnet ball pivot lets you set up a shot at almost any angle.
Being able to step away from the camera lets you get in more shots yourself. And not having to lug around heavy equipment is a plus, too—how many other uses does a full-size tripod have, anyway? But the most important part about the Tiltpod is that it reduces or eliminates all your worry about the final product. Forget about issues like blur, noise, and wobble, and instead focus your time, energy, and creativity on what matters most.
Need an inexpensive camera to use with the Tiltpod? Consider the
Canon PowerShot ELPH 310 HS
(about $260) with 12.1 megapixels, 8x optical zoom, and 1080p video capabilities. Or check out the
Panasonic Lumix DMC-S3
—it has fewer features, but it takes excellent pictures and video, and can be found for less than $100.
On an even tighter budget? Don't sweat it: Gomite makes a keychain version of the Tiltpod for the iPhone 4 and 4S, too.