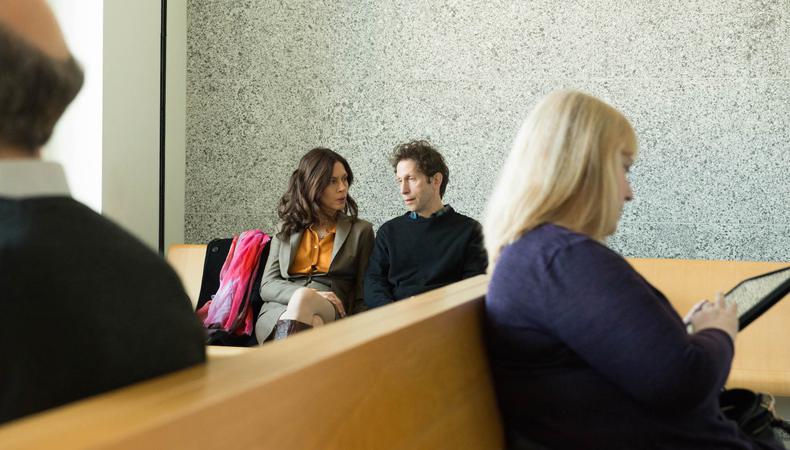 Tim Blake Nelson got the idea for his latest movie from his New York City apartment's intercom buzzer. "I used to just press the listen button and spend time listening to people walking by," the actor-writer-director confesses. He would only catch the occasional word or phrase uttered, but the habit made him wonder about the relationships of neighbors living in a metropolis, simultaneously tight-knit and distanced. "It's interesting eavesdropping on the city."
Nelson started brainstorming ways that eavesdropping devices might force someone to reach, as he puts it, "into the different strata of the city." An act of violence witnessed aurally, for example, would enmesh New Yorkers from those different strata, throwing them off the course of their everyday routines. "Anesthesia," Nelson's intimate new feature film, starts from that moment and unravels outward, threading together glimpses into the lives of various urbanites.
Creating an ensemble of interlinked characters, rather than one or two protagonists, meant Nelson had to draw from his own experiences and encounters in 21st-century NYC. "When I write, the story kind of leads me," he says. "So I started meeting these other characters that were tangentially related." While following such varied strands, however, he had to pay attention to the film's overall tone. "It all goes into the stew of telling a story; a movie like this is sort of a stew. You just hope the constituent flavors end up blending into one."
How to discover and refine those flavors? Teaming with casting director Avy Kaufman, whom Nelson has known since graduating from the Juilliard School, enabled him to cast New York–based actors, many of them with strong theater backgrounds, who could capture the city's modern-day spirit. "She knows my taste so well at this point," he says of the renowned CD. "She can read a script, have a good conversation with me, and we're off as collaborators to fill out the roles."
After casting himself and Jessica Hecht as married couple Adam and Jill, Kaufman helped find the right chemistry with their teenage kids by having Hannah Marks and Ben Konigsberg read together. Stage and screen veterans Sam Waterston and Glenn Close have poignant turns as Adam's parents, and Kristen Stewart—whom Nelson asked to participate via text message—shines as a troubled college student. Rounding out the talented ensemble are K. Todd Freeman as a struggling junkie, Michael K. Williams as a guilt-ridden lawyer, Gretchen Mol as a frustrated housewife, and Corey Stoll as her wandering husband.
"Casting is so much of what a movie is," Nelson says, especially when negotiating a story featuring many actors who may not even share scenes. His auditions, "a pretty exhaustive process," vary depending on each performer, but each involves getting to know acting styles and backgrounds. "I have a particular acting aesthetic," he explains. "It very much comes out of my own training and experiences I've had with theater directors." When it becomes obvious stage veterans such as Hecht and Stoll speak that theatrical language, they're a natural fit.
Mol, however, was cast in a most unusual fashion. "Gretchen Mol never read," remembers Nelson. "She came in to meet. Having her read, which she probably would've done, was just clearly unnecessary." Something about her energy and listening skills illuminated the character of Sarah, and by the time Mol left the room, Nelson had expanded the character in his mind. "Just meeting her taught me what that role could be.
"I like to find actors who are sourcing the material within themselves rather than putting it on some exterior," he adds, "and then make active choices. K. Todd Freeman is one of those actors." Freeman's Joe is a former writer whose gifts have been wasted by heroin; the actor's every movement and facial expression is rooted in a constant anguish that is all too believable. In a film that shares the storytelling weight evenly among many, each individual must do his or her part to contribute to a collective truthfulness. As Nelson says, "the actors distinguish the movie as much as anything else does."
Inspired by this post? Check out our film audition listings!