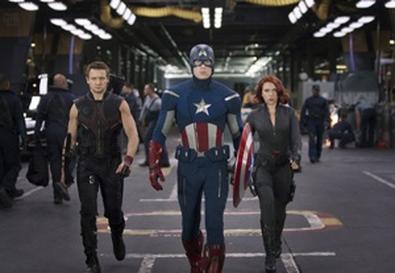 Let's get this out of the way at the top: Yes, "
The Avengers
" lives up to its massive hype, for the most part. It's a little too long and a bit overstuffed with characters, but writer-director Joss Whedon's blockbuster is also very funny and highly satisfying. Comic-book movies aren't necessarily known for their superb performances, but "The Avengers," which brings together some of Marvel's biggest superhero franchises, is a nice reminder that these films have actually been blessed with some pretty strong actors. If you loved Robert Downey Jr. in the "Iron Man" flicks, you'll be happy to know he's the center of "The Avengers," but Scarlett Johansson and Clark Gregg are quite good as well. The happiest revelation is that Mark Ruffalo makes for a terrific Bruce Banner, conveying the scientist's intelligence and anguish with palpable emotional undercurrents. In fact, Ruffalo is such a fantastic presence that it's almost anticlimactic when he eventually transforms into the mighty Hulk.
Audiences wanting to avoid costumed heroics may be tempted by the grownup comedy-drama of "
The Best Exotic Marigold Hotel
," which finds a group of retirees traveling to India to enjoy the comforts of the titular resort. Unfortunately, the hotel isn't nearly as luxurious as advertised, and the pensioners' hope for a tranquil, restorative stay doesn't go quite as planned. "Marigold Hotel" features a who's who of decorated U.K. actors, including Judi Dench and Maggie Smith, but the film's overly silly and sentimental tone tends to dull a fine cast. Still, Bill Nighy does marvelous work with one of his most substantial roles in years, playing a worn-down married man reinvigorated by his new locale. But best in show probably goes to Tom Wilkinson, who is superb portraying a mild-mannered judge who has a secret reason for his Indian expedition. He transforms soap opera into something resonant.
"Marigold Hotel" touches on mortality, but it's not the only film this weekend that does. The romantic drama "
A Little Bit of Heaven
" concerns a vivacious, commitment-phobic single gal named Marley (Kate Hudson) who discovers she has colon cancer. While coping with her treatment, she falls in love with her uptight doctor (Gael García Bernal), but will her illness cut short their courtship? Though poignant and stacked with an impressive supporting cast, including Kathy Bates, Rosemarie DeWitt, Lucy Punch, and Peter Dinklage, this tearjerker is undone by a nagging cable-movie feel -- and not a good cable channel like HBO -- and a noticeable lack of chemistry between Hudson and Bernal, which proves fatal.
Religious conservatives aren't going to like "
The Perfect Family
," but to be fair, neither did I. Kathleen Turner plays Eileen, a strict Catholic wife and mother who would seem a shoo-in to win the coveted Catholic Woman of the Year award, except that her daughter (Emily Deschanel) is a lesbian and her married son (Jason Ritter) is having an affair. This obvious satire of religious hypocrisy takes a worthy topic -- the challenge of reconciling generational cultural divides within a family -- and reduces it to a condescending life lesson as we wait for small-minded Eileen to accept those who are different from her. Despite the story's smugness, though, Michael McGrady gives a warm, deeply felt performance as Eileen's loving, patient husband, the film's one nuanced character.
If you're not concerned about the world's water supply, you will be after "
Last Call at the Oasis
," a coolly intelligent documentary that examines a brewing water shortage affecting not just impoverished countries but also parts of the U.S. Laying out its case exhaustively without being preachy or unnecessarily fatalistic, "Last Call" touches on everything from the scam of bottled water to the struggles to make the concept of recycled water (e.g., converted waste water) palatable to consumers. It's a smart, engaging film that will hopefully spark a larger debate about a natural resource that some observers feel could someday be as precious (and as scarce) as oil.
On the other hand, one resource that seems unlikely to dry up any time soon is documentaries chronicling niche interests that build to some big competition, such as "Spellbound," "Mad Hot Ballroom," and "Wordplay." The latest such film, "
First Position
," follows a familiar template, introducing us to a handful of talented young ballet dancers as they face off at the annual Youth America Grand Prix. It's a tired but reliable formula, thanks to countless reality-television shows, but director Bess Kargman shows us enough of her subjects' personal stories to make us all anxious parents rooting for the kids from our seat. At its best, "First Position" goes beyond the driven-child-prodigy clichés, most memorably with a teen girl who survived the atrocities of Sierra Leone. Still, wouldn't it be great if just once a documentary didn't place its emphasis on winners and losers?