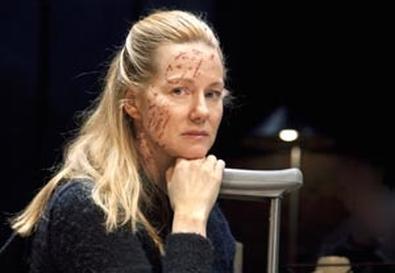 In Donald Margulies' new drama "Time Stands Still," Laura Linney proves yet again she's one of our finest actors. Even when others are speaking, we are drawn back to Linney, watching her reveal more and more simply by listening and observing. I can think of no one today who achieves quite the same empathetic translucency, and you can imagine Margulies keeping it in mind when creating her character, Sarah Goodwin, a tough, committed photojournalist who specializes in documenting the carnage of war. But though the play gives Linney resonant opportunity, Margulies' largely well-observed, intelligent four-hander ultimately can't transcend its predictability. While the journey holds our interest, the destination is disappointing.
Goodwin has been severely wounded in the Middle East. Covered in shrapnel scars and on crutches, she has just returned to the Brooklyn loft she shares with her lover of eight years, James Dodd, a freelance journalist who also covers war zones. It's soon clear there's trouble between the two of them that's being suppressed due to the situation. It turns out that Jamie wasn't there when the bombing happened, as he had left the Middle East about six weeks earlier due to a nervous breakdown. Soon the couple's best friend, Richard Ehrlich, a photo editor, arrives with his unannounced new flame, Mandy Bloom, an events planner. He's 55 to her 25. Richard has shed his longtime companion, the complicated Astrid, in search of simplicity and comfort. Whether Sarah and Jamie should seek the same and abandon war zones in favor of tying the knot and starting a family becomes the major question of the play.
Margulies seems to want this to be a tough consideration of our complacency in the face of documented horrors, but he doesn't gain serious traction. For starters, it's never clear what drives the obsessed Sarah. It may have something to do with her childhood. She detests her right-wing, Christian, Palm Springs–dwelling folks, of whom she says, "War is my parents' house again, just on a different scale." But the remark is glib and what underlies it is never explored. We end up more interested in why Jamie and Sarah are still together when she is so obviously cruel to him. The human story trumps the philosophical one, but it's also never in doubt. All we can do is wait to see how the inevitable breakup will occur.
Brian d'Arcy James is charismatic and sympathetic as the confused Jamie, and when it comes to nuance he can go toe-to-toe with Linney. Eric Bogosian makes a curiously subdued Richard. He's least believable bringing up a fraught work topic in the aftermath of Jamie and Sarah's wedding reception, but he's quite persuasive in Richard's bewildered joy about his new relationship. Alicia Silverstone is a delight as Mandy, adept at downplaying the character's clichés—would Mandy really feel the need to explain what "pro bono" means to this tough crowd?—while underlining her resilience in the face of hostility and her growing maturity after becoming a mother.
Daniel Sullivan smartly directs as much between as on the lines, but he can't keep the proceedings from feeling slightly static. Special mention should go to set designer John Lee Beatty's finely detailed loft, which tells you almost as much about Sarah and Jamie as the script.
Margulies' habit of carefully doling out the exposition keeps us engaged, but it's not enough. Though there's much to admire at the Friedman Theatre, "Time Stands Still" ultimately fails to cohere in either a thematically or emotionally satisfying way.
Presented by Manhattan Theatre Club by special arrangement with Nelle Nugent/Wendy Federman at the Samuel J. Friedman Theatre, 261 W. 47th St., NYC. Jan. 28–March 27. Tue., 7 p.m.; Wed.–Sat., 8 p.m.; Wed., Sat., and Sun., 2 p.m. (212) 239-6200, (800) 432-7250, or www.telecharge.com. Casting by Nancy Piccione.