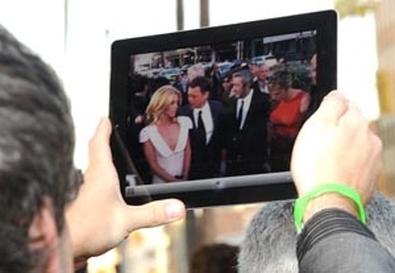 Whenever some shiny new tech gadget gets released, I involuntarily covet it, because, well, it's shiny and new. Eventually, though, the cheapskate in me drills down to the practical: Do I really need it? Is it worth the money? Or more accurately, can I justify deducting the expense to a humorless IRS tax man in the event of an audit? (I've been audited twice, I should add, so this is not merely academic.)
This brings me to the oh-so-shiny-and-new tablet computers. Are they worth the money? Yes. Can you deduct the expense? At least part of it, for sure.
For the uninitiated, I should note that tablet computers have been around for years. Microsoft introduced a tablet version of Windows in 2001. I recall holding one of those early tablets, a thick slab of plastic that seemed like an overly weighty laptop with the keyboard ripped away—very unappealing. With the new iPad 2 and its elegant touch-screen interface and thousands of work and play apps, Apple has reconceived the entire platform. The company has (or will soon have) competition in this arena from BlackBerry, Motorola, Samsung, Dell, and Archos. But so far, none of their devices is as light or as thin as the 1.3-pound iPad 2. Without debating the merits of other tablets in this brief space (I do like several of them), I have two main reasons for my fondness for the iPad 2: the price—starting at $499, it's cheaper than most of the others—and the fact that some of its apps seem to be tailor-made for actors.
Like the iMovie app. For a mere $4.99, you can edit your reel and put it online using the iPad and its built-in Wi-Fi. No other tablet maker is offering anything that competes with this.
You can purchase or rent thousands of films and TV shows through the iTunes Store. You can also stream them from Netflix, at zero additional cost to members with plans starting at $8.99 per month. The iPad also makes an excellent e-book reader, with thousands of titles available for download. Play publisher Samuel French recently announced that it's actively pursuing the release of plays in digital format, something I think a lot of actors will welcome.
The iPad 2 is also a great PDF reader. This may sound mundane, but it's highly useful for show folk. In the last year, I was asked to participate in four play or screenplay readings, and in every case, the director or writer emailed me the script in PDF format and asked that I print a copy and bring it to rehearsal. At roughly 100 pages per script, I went through nearly a ream of paper and endless amounts of pricey black ink. I couldn't help but notice that one of the other actors showed up to one reading with his iPad in hand, from which he read the script. No paper, no ink, just a tiny carbon footprint. Color me leafy green.
I think it's reasonable to deduct some of the expense of your tablet on your tax return, as many of the device's uses are justifiably work-related. But how much? If you already deduct a percentage of your home Internet expenses and new computer purchases, a tablet easily fits into these categories. I'd have a chat with your accountant to determine the exact percentage to deduct.
By the way, refurbished original iPads—which lack the front- and rear-facing cameras of the iPad 2—are being offered on Apple's website and elsewhere (along with a one-year warranty, just as if they were new) at some nicely discounted prices.