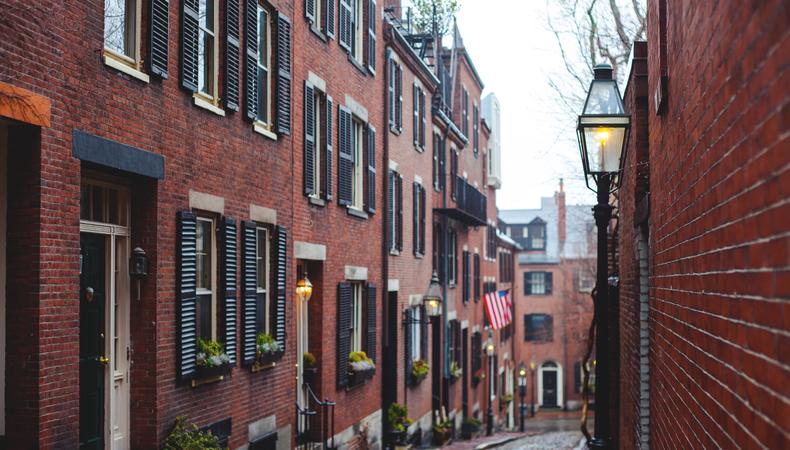 Production crews are flocking to New England, and with good reason. The scenery is breathtaking with snowcapped mountains in the winter, swan boat rides in spring, summer beachcombing on the Cape, and breathtaking fall foliage. Boston's cobblestone streets, reminiscent of Paris at the turn of the century, lead to a bustling community rich with art galleries and theaters. Not to mention the state of Massachusetts offers a tax credit to movie producers, refunding twenty-five cents for every dollar spent.
In any given month, Boston is home to up for 15 films in production. Recently wrapped films include "Growing Pains," Amy Schumer's "I Feel Pretty," "Slender Man," the Christina Hendricks-starring "Burning Woman," Taraji P. Henson's "Proud Mary," and Mark Wahlberg/Will Ferrell comedy "Daddy's Home 2." Currently in production in and around Boston are "Ghost Light," "The Equalizer 2" starring Denzel Washington, and the "Castle Rock" TV series. That's a lot of movie making! With so much going on, consistent work for Boston-based actors and crews is attainable.
Boston is one of my favorite cities; it has an intimate feel with big city perks. I recently taught a few acting workshops at Boston Casting and was impressed by the talent there. The office was busy until evening, working on both background and principle roles. I spoke with Angela Peri and Lisa Lobel, the owners of Boston Casting, to learn more about their city, which is just four hours away from the Big Apple.
READ: New York Isn't the Only Place to Get an Education
"Hollywood heavyweights like Mark Wahlberg and Denzel Washington love to work in Boston. There is a unique feel to the city, a talented and hardworking crew who can work tirelessly through every season, and actors with a special character and authenticity. We love telling stories in Boston!"
Additionally, some of the nation's top theater and acting programs—Boston University, Emerson, Boston Conservatory at Berklee, American Repertory Theatre at Harvard—call the city their home, which means the city's actors are well-trained and taken seriously. What's more, the bustling production scene in Boston, they stay in the area to work after graduation; they have the ability to be a big fish in a small pond.
Boston and its surrounding suburbs also offer wonderful theater opportunities. In New York, it's often difficult to land roles in community theater as many shows produced are professional. The Boston area has many local theater groups and regional theaters giving actors the opportunity to perform and even accumulate Actors Equity Membership Candidacy points. And since actors need to act, this is only a good thing!
When I teach in the area, I love listening to the Bostonian accent that an actor from New York or Los Angeles can't quite master. Local films need local actors with an authenticity and look you can't always find in New York or L.A. There is a genuine small town quality here that comes across, something I know is attractive to directors looking for the real deal.
You no longer need to live and work in New York or Los Angles to be a working actor. If you're not getting work in one of the two or simply prefer a different urban vibe, consider giving Boston a try.
Get all of your acting questions answered by peers and experts on the Backstage Community forums!
The views expressed in this article are solely that of the individual(s) providing them,
and do not necessarily reflect the opinions of Backstage or its staff.