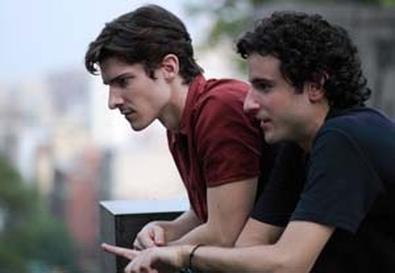 It's a rare privilege to be invited into unfamiliar territory and yet to feel instantly at home. Something like that happens on seeing Owen Panettieri's play about three New York roommates on the cusp of 30.
The complex dynamic among them, as they explore the nature of sexuality, love, friendship, missed connections, and lost opportunities, is something to which most of us at any age can relate. A trio of superb actors—Nik Kourtis, Adam Shorsten, and R. Elizabeth Woodard—under the caring and committed direction of Joey Brenneman, beautifully evokes both the banality of daily routine and the sublime potential of human connections. In eight deft nonlinear scenes covering a period of less than two recent years, Panettieri shows us both what these lives were like and what they might have been. A fourth actor, Justin Anselmi, in a relatively minor role, and a crack technical team support a production every bit as lovely as the play's title.

Presented by Mind the Art Entertainment in association with Intimation Theater as part of the New York International Fringe Festival at the 4th Street Theatre, 83 E. Fourth St., NYC. Aug. 18–28. Remaining performances: Sat., Aug. 21, 2 p.m.; Tue., Aug. 24, 7:45 p.m.; Wed., Aug. 25, 5:45 p.m.; Sat., Aug. 28, 7:45 p.m. (866) 468-7619 or www.fringenyc.org.