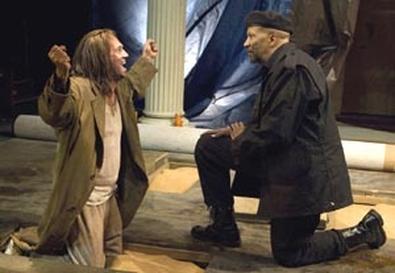 There's a reason "Timon of Athens" is one of Shakespeare's more rarely performed works. The title character is an extremist who elicits little sympathy.
He begins as a spendthrift millionaire, liberally bestowing gifts and money on sycophants. Once his funds run short and his fair-weather friends desert him, Timon is almost instantly transformed into the most misanthropic of hermits. When he uncovers a treasure chest full of gold—another credibility-stretching element—he spends the second half of the play repetitiously railing against humanity, as his former pals return in hope of grabbing more goodies. In the final analysis, the Bard takes a long time to get to a rather simplistic moral: Money is the root of all evil.
For the Public Theater's Public LAB production, director Barry Edelstein has circumvented the play's shortcomings by putting it in a modern setting and drawing parallels between Timon's troubles and the current financial crisis. Just as the big banks created a credit-mad atmosphere, Timon gives no thought to balancing his budget and winds up in foreclosure with no hope of a bailout.
Some of Edelstein's staging choices have an eerie immediacy. When the bankrupt Timon flees to the woods and his mansion is closed up, workmen roll up the set's plush carpet, the lights come up on the audience, and you definitely have the feeling that the lavish party is over. We then find Timon smeared with dirt and dressed like a homeless person, digging for roots underneath the theater's floor. Neil Patel's unit set employs simple means—a single chandelier here, a plastic tarp there—to convey the opulence and then degradation of Timon's station, as do Katherine Roth's costumes and Russell H. Champa's lighting.
The program note explains that the Public's LAB productions feature minimal design and short rehearsal periods. You'd never know it from the polished presentation and intense performances. Richard Thomas has come a long way since his days as John-Boy Walton. He finds shades of gray in the black-and-white Timon and actually makes the too-quick transformation from genial host to growling Scrooge believable.
In the early scenes, when Timon is a generous playboy, the actor imbues him with an impulsive recklessness, foreshadowing his extreme turnaround. In Thomas' capable hands, the first-act finale, in which Timon denounces the hypocritical citizens of Athens, is a searing orgy of rage, combining sexual violence with righteous indignation. In the second half, Thomas manages to maintain that fury without becoming monotonous by exploring different attitudes toward it. His Timon relishes an intellectual debate with the philosopher Apemantus, then delights in tormenting a shallow artist and poet.
Mark Nelson is heartbreaking as Timon's compassionate steward Flavius, while Max Casella dryly delivers the casual wit of Apemantus. Reg E. Cathey is a noble Alcibiades, an incorruptible military figure. David Manis, Chris McKinney, and Triney Sandoval are delightfully craven as three of Timon's fawning flatterers.
Edelstein doesn't quite overcome the script's limitations—Timon's crabby rants still tend to drag—but he goes a long way toward making this obscure work relevant for today's audiences.
Presented by Public LAB Shakespeare at the Public Theater, 425 Lafayette St., NYC. March 1–6. Tue. and Sun., 7 p.m.; Wed.–Sat., 8 p.m.; Sat. and Sun., 2 p.m. (212) 967-7555 or www.publictheater.org. Casting by Jordan Thaler and Heidi Griffiths.