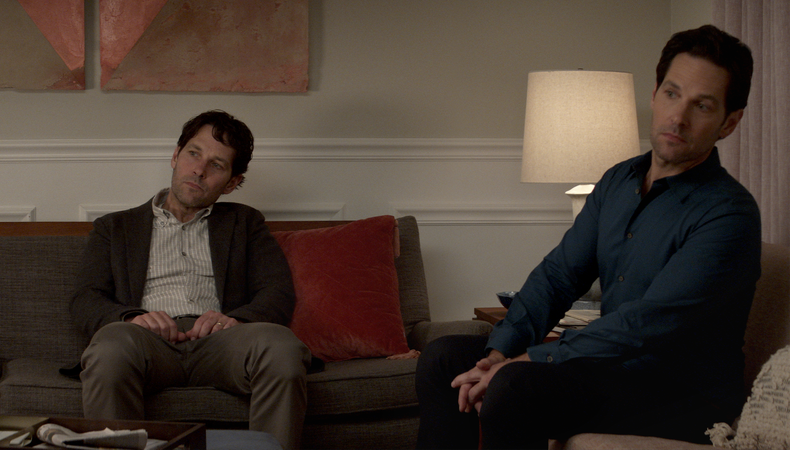 When Jon Stewart announced his impending departure from "The Daily Show," longtime staff writer Timothy Greenberg knew he needed to find his next project. "I sort of panicked," he concedes, even in light of having earned two Emmy Awards for the late-night show. The next morning, in the shower, he came up with the idea for Netflix's "Living With Yourself."
The eight-episode series follows Miles (Paul Rudd), a middle-aged man in distress who undergoes a special treatment at an exclusive spa that promises a better life. He discovers that during his day of pampering, he was replaced with a clone of himself. The O.G. Miles and the new-and-improved Miles share a wife (Aisling Bea), a home, and a job. Chaos inevitably ensues.
"You have two characters but one life—that is the perfect dramatic situation," says Greenberg. He was excited to write the story as a series to "tease the narrative out" over the structure of eight episodes, he says. "I was seized by the idea."
The career changeup from writing current events satire to episodic television provided Greenberg the opportunity to do what he always thought he'd be doing: narrative storytelling. "I always thought I was going to be an indie film writer-director," he says. "That was always my intention and ambition for my career." Indeed, "Living With Yourself" has the vibe of an indie film. The dark, existential comedy is helmed by directors Jonathan Dayton and Valerie Faris of the cult favorite "Little Miss Sunshine." And the show isn't a sitcom, nor is it a drama; it falls somewhere in between.
READ: Improv Can Lead to a Thriving Career in Comedy—Just Ask Scott Aukerman
With Rudd in the lead, Greenberg's script centering on a pair of contrarian doppelgängers was brought to life. The two Mileses have disparate sensibilities: One is happy-go-lucky, the other down on his luck. Finding an actor who could embody the two was essential.
"Whoever it was going to be needed to be both a great actor and a great comedy actor—and he's both," says Greenberg, who notes that Rudd topped his dream cast list long before Netflix acquired the project. "He's a really wonderful actor and he's hilarious. Everybody loves Paul Rudd; I love Paul Rudd. I'm like everybody else: If Paul Rudd is in it, I want to see it."
Despite the comedian and Marvel star's innate likability, he's able to effectively play the downtrodden Miles, a generally unlikable character. "With Paul playing it, you're willing to go along with it," says Greenberg. "You start rooting for him and his opposite self. He's able to take those two characters and give them a full range of emotions and still be able to differentiate them without having to resort to anything too big. It's a fine line to walk, and he walked it perfectly and in exactly the way that I had in mind."
So, how does Rudd do it? Greenberg swears that he changes the shape of his face when switching between the two characters. "That is not humanly possible," says Greenberg with a laugh. "You cannot change the shape of your skull or your jaw—but, somehow, he does."
"Living With Yourself" marks Rudd's first leading TV role and Greenberg's first showrunner credit for a narrative television show. Making the leap from late night to Netflix was possible because Greenberg wrote feature scripts throughout his 10 years on staff with "The Daily Show." He wrote the TV series on borrowed time towards the end of his "Daily Show" tenure, crafting the script before and after work.
"There's nothing better than having a day job that you're good at so that it leaves you enough energy when you come home, or in the mornings, to write," Greenberg advises writers. "Then you're not worried about where your next paycheck is coming from. You're staying active and involved with other human beings during the day, but you have enough creative energy leftover to write what you want to write."
He encourages aspiring creators to work with whatever is available to them. "It will give you the experience you actually need, so that people can trust that you can do it." (Looking to his own credits, for instance, the first film project of Greenberg's that garnered attention was made with zero crew and starred a stuffed animal.)
"This is my first show, but even with a big star and a big director, I was still the showrunner," says Greenberg, applauding his colleagues for bringing his original vision to the screen. "That's how TV is set up. I hope it stays that way forever, because I think that is the way it should always be."