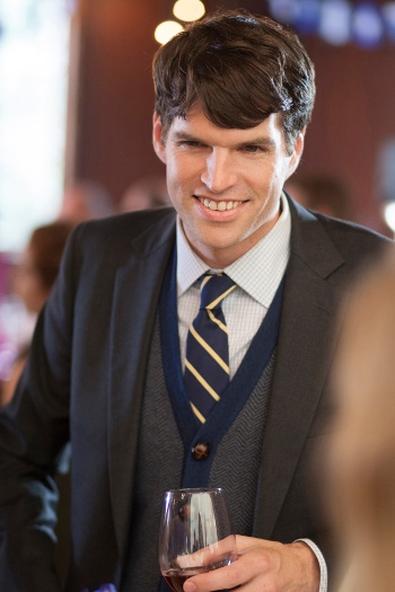 Timothy Simons' alter ego, Jonah Ryan, is trying to work his way back into the White House after being fired on HBO's "Veep." In his first big television job, Simons has quickly made Jonah a fan favorite despite the character's sleaziness.
On getting his SAG card.
"I got my SAG card doing a Kentucky Fried Chicken commercial in Chicago. It was [my] very first union gig. I think I could have Taft-Hartley-ed, but I didn't wait. I bought my way in immediately because it had always been a goal of mine."
On picking up cues about your character.
"I always do that old trick of finding out what other people say about you. What do they say about you when you're there, and what do they say about you when you're not? There were character decisions that I based on something Mike [Matt Walsh] said about me."
On getting nervous.
"I still get as nervous as I did auditioning before the show. It's like the confidence you have on set isn't applicable to a new audition. The one thing I always think about when I don't get jobs is that it just wasn't yours. You don't want to do something that you're not right for because it won't make the production look good and it won't make you look good."
On casting against the breakdown.
"Jonah was written as a short, fat, bearded guy. I'm completely against type and I was the first person to audition for the project. Ultimately, from that first audition when I should have never really moved on, I ended up going to the work session and then the producers audition, and then I tested. One of the things that I love about Armando and Simon is that they'll have an idea and they don't hold onto it. If they find something that works, they'll run with it. They don't try to force their initial idea on to something just because it's their initial idea. They allow for things to evolve and change."
On making the role yours.
"If you're going to go to an audition, you don't want to go in trying to force yourself into some archetype that has been thought up by a director and translated by a casting director. If you have a particular read on it, go in with your point of view, because it doesn't make sense trying to go in with somebody else's point of view."
On theater to TV.
"Sometimes our takes are 12 and 15 minutes long. And it's shot in such a way that it doesn't require a lot of setups and lit in such a way that the camera can kind of face any direction. You had to find business when you weren't talking. It isn't the kind of job where if the camera's not on you, you can just take those takes off. You don't know exactly when you're supposed to be making that adjustment for [your] close-up. You just play the scene and then they put it together. The transition has been eased because ultimately, when we're shooting it, it feels like theater."
Like this post? Check out last week's Spotlight On, featuring LaTanya Richardson Jackson!