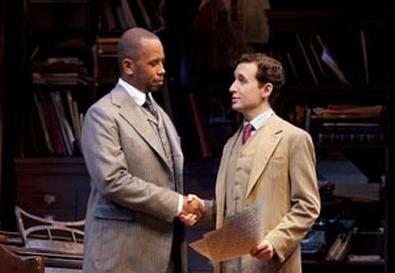 Playwright Mark Saltzman clearly loves the work of Irving Berlin and Scott Joplin, and he wants to share it with the world. And, indeed, whenever music takes center stage in
The Tin Pan Alley Rag
, there is enjoyment to be had. Unfortunately, the play Saltzman has fashioned, about a fictional encounter between the two musical titans, is a thin, unbelievable affair that ultimately plays like dueling episodes of
Biography
.
It's 1915, and we are in the music publishing office of Berlin and his partner, Teddy Snyder. Joplin arrives, posing as his own representative, with the score for his opera
Treemonisha
under his arm. He has been fruitlessly seeking a publisher for years. Snyder is uninterested and leaves, but Berlin stays to hear some of it. He quickly guesses who Joplin really is, and the two men suddenly discover an apparently irresistible urge to tell each other their life stories. This is a particularly big stretch for Berlin, who famously loathed introspection.
Their tales are dramatized by a talented company of 10, with Beowulf Borritt's exceptionally fine
periaktoid
-based set breaking apart and reassembling in endlessly creative ways. But while the set allows the show to flow seamlessly, either Berlin or Joplin is always left standing to one side, watching with a fixed expression of interest and nothing to play. And as the motivation for telling these stories never rings true, their endless exposition is all too readily apparent, and the force-feeding of biographical facts soon grows tiresome.
Saltzman tries to whip up a philosophical disagreement between Berlin and Joplin about art versus commercial success, and he reaches for an emotional bond between the men over the fact that each lost a wife shortly after marrying. But none of it convinces, despite a performance of considerable charm and accomplishment from Michael Therriault as the driven, haunted Berlin. As Joplin, Michael Boatman has a harder time of it, mostly because the character is so blankly written. Boatman invests Joplin with dignity and stature, but surely the dying King of Ragtime, desperately racing the clock to get his opera produced, was more interesting than the bland man we see here.
Director Stafford Arima indulges the script's penchant for sentimentality far too often. The fast-forward coda, in which Berlin stands center stage as offstage pianists play a medley of his greatest hits while characters from his life hand him eyeglasses, a cane, a hat, and an overcoat, transforming him into an old man, is just unfortunate. And no actor should be asked to die by walking off upstage center in ethereal slow motion into a star-studded night, as poor Jenny Fellner must do as Berlin's first wife.
Fortunately, Fellner's spirited portrayal survives that miscalculation. Other standout performances include newcomer Idara Victor's as Joplin's flirtatious and accomplished first wife and veteran Michael McCormick's as Berlin's fast-talking partner. His plugging of a song to an exceptionally thick vaudeville performer is priceless.
Saltzman occasionally plays fast and loose with the facts. We see Berlin composing "Alexander's Ragtime Band" the day after meeting Joplin, with the clear inference that Joplin's insistence that Berlin stretch himself artistically has informed the song. In fact, Berlin wrote the huge hit in 1911, four years earlier. And the curtain comes down on an aged Berlin fulfilling a promise to Joplin by attending a Broadway performance of
Treemonisha
in 1975, when it was finally produced. Of course, by then Berlin was a famous recluse who hadn't left his Beekman Place home for years. There's no way he ever kept that promise. But it's a promise he never made. So it doesn't matter. Right?
Presented by Roundabout Theatre Companyat the Laura Pels Theatre, 111 W. 46th St
.,
NYC
.
July 14
–
Sept. 6. Tue
.–
Sat
.,
7:30 p.m
.;
Wed
.,
Sat
.,
and Sun
.,
2 p.m
.
(
212
)
719-1300 or www.roundabouttheatre.com
.
Casting by Stephen Kopel
.