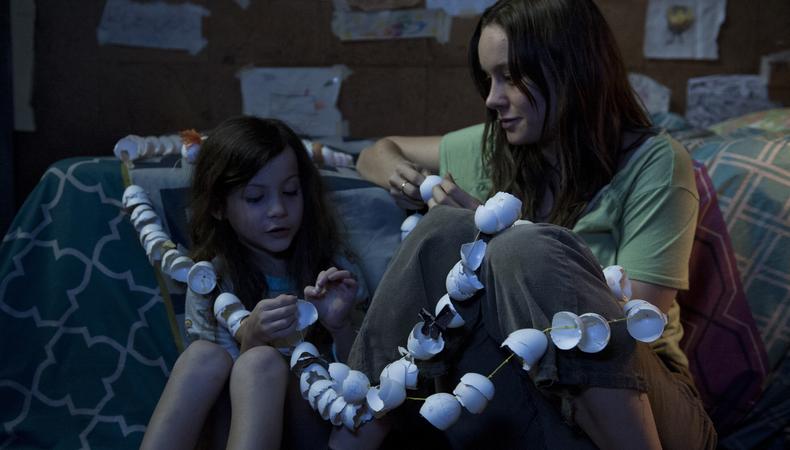 The challenge facing Lenny Abrahamson in directing "Room" is embedded in the film's title: How do you shoot a full-fledged story inside a tiny interior?
"Logistically, sure, there are myriad problems in just operating in a space like that," Abrahamson says of the 10- by 10-foot room in which they filmed. "Getting the camera where you need it to be, dealing with the number of people you sometimes have to have around the camera... But we felt it was important not to cheat." Rather than construct a set with more space, Abrahamson stuck to the dimensions for as realistic a storytelling experience as possible.
Adapted for the screen by Emma Donoghue from her best-selling novel, "Room" follows a young woman, Ma (Brie Larson), who has spent the last seven years confined to a shack by an abductor who regularly rapes her. Because the film is told—in narration and in its cinematography—from the point of view of Ma's five-year-old son Jack (Jacob Tremblay), who has lived his whole life within the space, Abrahamson was able to focus his lens on the minutiae that feed a child's imagination: dust swirling in sunlight, eggs being cracked into a bowl, the novelty of a rat skittering across the floor.
"Creatively I think what we discovered was, most of the vocabulary that you have as a filmmaker is still at your disposal, even in a room like that," he says. "Scale is kind of an elastic concept. If you're shooting in the world, you've got the sky and horizon lines, but in that room you've got an almost microscopic level of [detail]." For Jack, it's not a 10- by 10-foot shack; it's his entire universe.
"In a way I was really proud we were right," Abrahamson adds. "Our instinct was not to panic and throw a whole lot of crazy, stylistic stuff at it in an effort to avoid the terrible danger of becoming visually bored."
In fact, there are very few overtly stylistic choices in "Room"; because its premise alone provides extraordinarily high stakes, Abrahamson found understated naturalism to be his most effective tool. Ma's kidnapper, referred to as Old Nick (Sean Bridgers), never enters his shack like a cliché sociopath, accompanied by suspenseful string music. Yet his presence, seen through the slats of the closet in which Jack is kept during visits, produces heart-pounding terror.
"Just listening to that guy patter around the room, hearing his footsteps on the floor, hearing him speak quietly to Ma while Jack is in the closet—that's so much more scary than if you have the horror music going," Abrahamson points out. "It's way more interesting to play it low-key.... It's actually more scary if you believe it. It's more emotional if you believe it."
Having an audience believe in a story requires skilled actors, of course, especially for a film that for the most part features two characters. At the beginning of the casting process, Abrahamson remembers, "it was a very short list of really great actresses who were the right age." When someone said he should check out Larson's work in "Short Term 12," he didn't take the recommendation too seriously—"people love giving you casting suggestions when you're making a film." But then he saw Larson onscreen. "She jumped straight onto the list, we met in L.A., and hit it off!
"What was great was that she was confident enough to say there are so many different ways to play Ma, and each version brings with it a whole raft of other overtones for other aspects of the film," he says. "That's what I'm always looking for: someone to really collaborate. I don't want someone to turn up with a character." Finding Jack came next; Abrahamson says his two leads would have to establish an effortless rapport for this distinct mother-son dynamic. "If you really want that relationship to work on screen, it has to work off-screen as well."
Audiences can see that heartwarming relationship for themselves; "Room" opens in select theaters Oct. 16.
Inspired by this post? Check out our film audition listings!