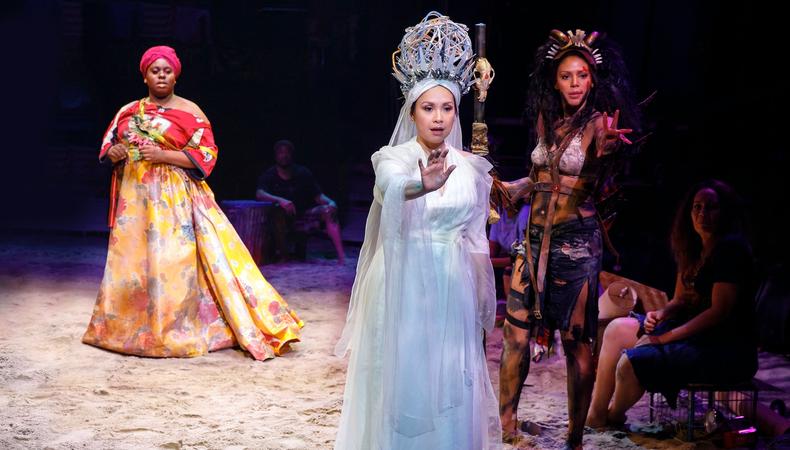 As hair and makeup supervisor for Broadway's colorful revival of "Once on This Island," it's Monique Rance's job to make sure actors' wigs are up to snuff and—singular from her other credits with "The Lion King" and "Eclipsed"—free of sand.
Her day-to-day is 'very detail-oriented.'
"[My job is] getting the wigs prepped, getting the actors in mics, getting their hair prepped to put on the wigs, and putting the wigs on—and a lot of styling, backstage quick-changes with taking the wigs on and off and adding things to the wigs. It's very detail-oriented...with the hairdos up and then down and adding crowns and the different things."
READ: A Makeup Artist Shares the 1 Thing Every Actor Should Always Carry
Watch out for the 'Island' sand.
"This one, working with the sand, the wigs get dry from the sand in the air, so it's a lot of taking down the wigs and redoing them almost every night, and shampooing them and keeping them clean for the actors.... The biggest challenge is just the daily maintenance. It's very time-intensive."
Actors ought to be open to hair experimentation.
"I appreciate [when actors are] willing to try things. It's hard if they're not willing to give their time to allow me to find different ways to make the wigs fit easier and things like that.... Here at 'Once on This Island,' we're all like family. Everyone's comfortable with each other."
Don't confuse the supervisor's work with the designer's.
"[The style] is kind of set in stone with the designer. So the designer designs and tells us what they want, they come in with the hairstyles that they want on the wig, and we just create. We create them every night and keep the wigs prepared."
On how to break into the profession.
"What advice would I give to someone who wanted to be in this business? I would really want them to study and be able to work with all textures of hair. One should also have a vast knowledge of products that work well on various textures and lengths. I can't stress this enough. This will prepare you to work with any ethnicity and be ready for any task or job that may come your way."
Ready for Broadway? Check out Backstage's theater audition listings!