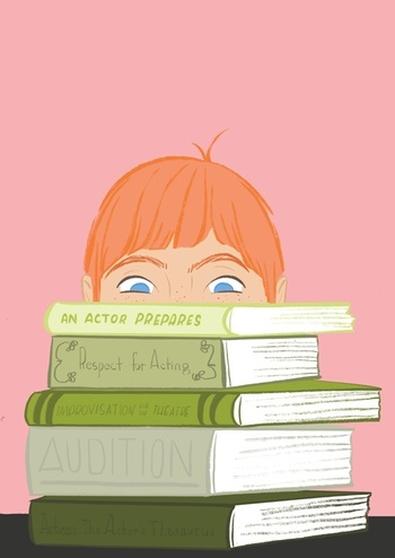 Dear Michael: I'm a kid with dreams to become an actor, and I really do have the work ethic and the talent to possibly make it. And yes, I understand how much effort and time being an actor requires. But my
problem is funds. My family lives in Manhattan, which is expensive as far as I can understand. My parents don't have money to spare on headshots, transportation, or workshops. And since money is tight my mom has to work incredibly hard and is always stressed, and doesn't have time to take me to possible jobs if they don't pay, even if it gives me experience. So I have next to no training except for my annual three weeks of summer camp (it's an arts camp) and my school performances (fun, but not quite training).
I'm kind of losing hope of anything ever going right for me in acting for another few years or so. So, what's a kid with no funds, little real experience, and no transportation except for their feet supposed to do? —Budget Cuts
Dear Budget Cuts: I have suggestions. But first, two very grown-up lessons: (1) There's almost always another way to look at or approach things, and (2) When there's truly nothing you can do about a problem, it's pointless to waste even a moment of stress on it. Agonizing does nothing to improve an impossible situation.
So you can't get headshots, take classes, or attend auditions right now, correct? OK. Let's look at what you can do. There are dozens of ways to cultivate your chosen profession without spending a dime, and others that cost very little.
Read, read, read—plays, actor biographies, books on acting technique. Have you got a library nearby? Join and give yourself some free education.
Use the Internet. Watch interviews with actors and teachers about technique, auditioning, text analysis, anything. Watch great film actors and study their work.
Get together with other young actors and start a weekly play-reading or improv group.
Find free and inexpensive performances. You're in the best city in the world for that. You can start with www.shakespeareinthepark.org, www.clubfreetime.com, and www.studentrush.org.
You may be able to get headshots for just the printing costs. Beginning photographers often work for free to build their portfolios. But be careful with this one. Occasionally, these arrangements turn out to be weird. Don't go alone, and don't take chances.
Look for opportunities to work as a reader or an intern for a casting office, director, or theater company. These are among the most educational experiences an actor can have.
Look into being a "key student" for an acting teacher. This means taking attendance or setting up and so forth in exchange for free tuition.
That's just off the top of my head. The point is, you're not stuck. There's stuff you can do. True, some things just aren't accessible to you at the moment. But doesn't it make the most sense to focus on the things that are?