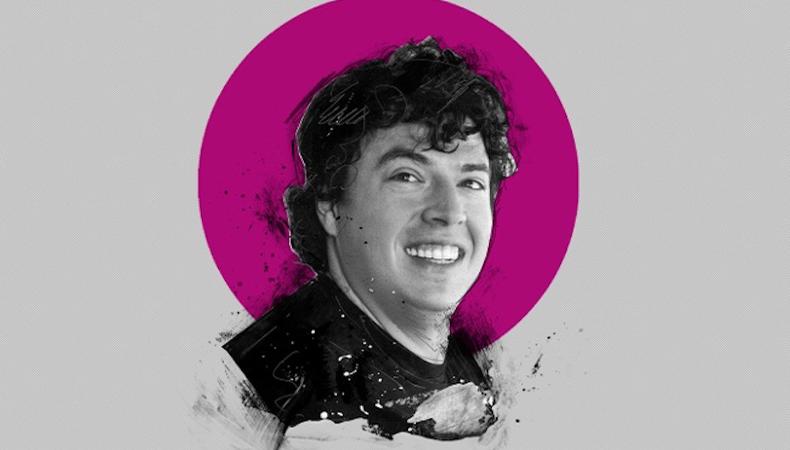 This theater kid has hit the big time! After getting his start in Broadway productions like "The Book of Mormon," Jon Bass is now enjoying a breakout role on the hotly anticipated summer flick "Baywatch." Here, he discusses the advice he'd offer his younger self, working on a blockbuster set, and how Backstage helped him in his early career.
What has your role in 'Baywatch' added to your acting skills?
It was another amazing opportunity to get as comfortable around a camera and a huge set as possible. Most of the things I'd done up until that point had been on TV and more indie films. So the first day I showed up to set for "Baywatch," you're around 100 people who want autographs from the Rock [Dwayne Johnson], lights you've never seen before—huge balloon lights up in the sky that are filling in the entire night. Your mind is a little blown. As far as my acting chops go, that's a really important lesson to learn. It doesn't matter if you're on the largest set in the world or in a room with another person; what matters is focusing and doing the best work you can do.
READ: How to Behave Your First Day on Set
What's your go-to audition song?
"Wonderboy" by Tenacious D.
Have you ever used Backstage?
Oh, yeah. All the time. When I was first starting out in New York, it was the magazine I'd always read and keep up on to see what auditions were out there. I loved articles like [Backstage 5], actually, where you get to hear other people's secrets and what they think is the right way to handle an audition. I know that my first year in New York, I was completely lost and I would just consume any sort of advice from a casting director or an actor. I think what Backstage helped me do was sort of create my own version of that. You create what works for you, and Backstage is an incredible venue for actors to find what works for them.
What advice would you give your younger self?
[Laughs] I guess pay attention more in school? My younger self was a lot more adventurous and took more advantage of situations than I do. I sort of chilled out. But you know what I'd say? I'd tell him to write a little something every day. That's something I've always regretted, still to this day. I would say, "Sit down and write a bit today, a scene or a thought that you've had, so that now, present-day Jon Bass would do it automatically."
What was your most memorable survival job?
I was the cupcake carrier for Billy's Bakery in Tribeca. I would travel around Tribeca, all the way up to the Upper West Side, every morning at around 5 or 6 a.m., delivering cupcakes all across the city in a huge rickshaw bike. That's the only job I'm capable of doing if I'm not acting. I'm not capable of being in charge of anything or any actual work. It's either [delivering cupcakes] or acting.
How do you typically prepare for an audition?
I really enjoy treating the audition as a rehearsal. The second I get an audition I spend a good hour with it and put it away. The next day I'll really work on it, that way it feels really natural when I go into the room. The worst thing any actor can do is try to act cool.... I have so many friends who have said, "I'm not gonna get the part, so why even try?" You try because you want the part and you have to put in the work.... If I really like the part, I will spend the whole day on it. If I don't really like the part I won't do it. They've only given me a day to prepare and I'm not crazy about it? I'll just say, give it someone else. I'm not picky. But you never want to go into a room and feel like anyone's wasting each other's time. The worst thing you can do is walk into that room and do something you're not proud of.
What is your worst audition story?
The first time I auditioned for "Book of Mormon," which a year later I got. I had never auditioned for a musical. I didn't know what auditioning for a musical even entailed. I was a deer in the headlights. A fresh young New York actor who's never auditioned for a Broadway musical. I got the music for "Man Up" before the original cast recording came out. I didn't know how to read music, I didn't know how to prepare. I got this basic piano rendition of "Man Up" without hearing anyone sing it, and I had to go in and do my version of what I assumed "Man Up" should sound like. I was so nervous. I was so terrified. I was in the room with Matt Stone, Trey Parker, and the choreographer, Casey [Nicholaw]. Everyone was staring at me, ready to sing, and I botched it hard. It was disturbing to watch and disturbing to do. [Their response was], "OK. Thank you, Jon."
What movie should every actor see?
"Dumb and Dumber" for comedy. For drama, "The Master." For sci-fi, "Aliens." For romantic comedy, "When Harry Met Sally." For the greatest overall acting in any film, "The Great Muppet Caper."
What advice do you have for actors relocating to New York?
Don't beat yourself up. Try to find like-minded artists that you really like and annoy them until they become your best friends. There are so many little spots in New York I wish I'd known about in my first year, like Ars Nova and Playwrights Horizons and all these places where you can look up this whole list of little pockets where artists are meeting every week and exploring new work. Get into those pockets, spend your time there. And if you have the money and the time, I would highly consider doing the Williamstown Theatre Festival. That's why I have an agent, a manager, why I know 90 percent of the people I ended up working with in New York. That was my grad school, Williamstown. And have a good time! New York's a blast.
Want to put Bass' tips to good use? Check out Backstage's film audition listings!