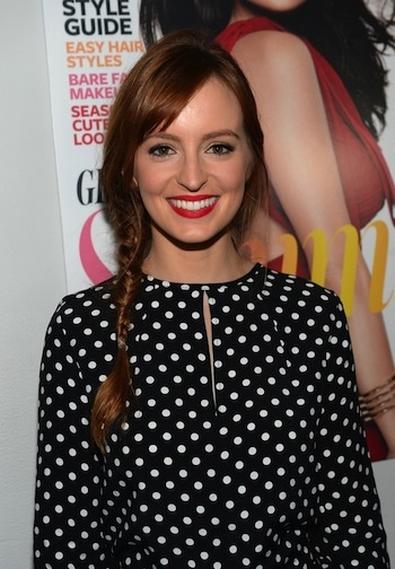 Though Ahna O'Reilly has been working steadily for the last seven years, 2013 is poised to be a big year for the actor. Perhaps best known for her turn in 2011's "The Help" as Elizabeth Leefolt, who employs Aibileen (Viola Davis), O'Reilly is currently on screens in "Fruitvale Station," which chronicles the last night in the life of Oscar Grant, who was shot and killed by BART Station officers in the Bay Area. Next up is a showy role in "Jobs," in which Ashton Kutcher stars as Apple founder Steve Jobs. Later this year she will also be seen in "CBGB" and an adaptation of William Faulkner's "As I Lay Dying," directed by her ex-boyfriend James Franco.
Turn to friends for 'Help.'
O'Reilly credits her co-star in "The Help," Oscar-winner Octavia Spencer, for being her career counselor and "guardian angel." The two met on a tiny independent called "Herpes Boy," and although they didn't have any scenes together, they formed a fast friendship. It was Spencer who called O'Reilly and told her about the upcoming film adaptation of "The Help." Recalls O'Reilly, "She told me there was this amazing movie coming up, and there were so many wonderful roles for women. At the time, I wasn't anybody; I was not in a position to get in the audition room for a movie like that." But Spencer endorsed O'Reilly to casting director Kerry Bardem and "slipped me into" the audition process. O'Reilly doesn't hesitate to say "The Help," for which the she won a SAG Award as a member of the ensemble, changed her life. "Not only did it do great things for my career to be a part of such a wonderful movie, but I met so many amazing people that have affected my life," she says.
Pay back your favors.
Spencer was responsible for O'Reilly landing another prominent role—that of a young woman who meets Oscar Grant at a grocery store, then later witnesses his fateful encounter—in "Fruitvale Station." "Octavia was a producer on it and she called me up and asked if I would do a small part in it," she says. "And she behaved as though I were doing her a favor, which couldn't be further from the truth. It was an honor and a privilege to be in that movie." It was also the first time O'Reilly was offered a role without having to audition, an experience she describes as "flattering and strange."
Apply for 'Jobs.'
O'Reilly did have to audition for the coveted female lead in "Jobs," in which she plays Chris-Ann Brennan, Jobs' ex-girlfriend and the mother of his child. "It was a pretty standard audition and meeting with the director, Joshua Michael Stern," she says. "And at some point, they told me they were going to have me come back and read with Ashton." But that callback never materialized—they ended up offering her the part. So the first time she met her on-screen love interest was at a reading of the script. "We were introduced, said hello, and within minutes we were screaming at each other in a scene," she remembers.
Keep it real.
In "Fruitvale," O'Reilly plays a character who is an amalgamation of real people so taking on the role of Chris-Ann marked her first time playing a real person, though she would go on to play director Mary Harron in "CBGB," due out later this year. "There is definitely a big responsibility you have in portraying someone who is real and still alive," she says. "Especially if it's someone you admire as much as Chris-Ann." To research to story, she says she "devoured" Walter Isaacson's biography "Steve Jobs," and also read a piece Chris-Ann wrote for Rolling Stone Magazine about life with the tech guru. Though she wasn't able to meet her counterpart, she did begin an e-mail correspondence after learning they had a mutual friend. "It was totally out of the blue, I was telling someone I was playing this part, and they mentioned that they knew her through work, then connected us," she says. "I took it as another sign I was meant to play this role."