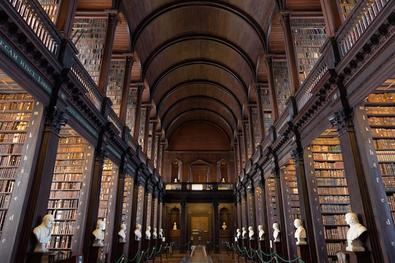 So you're a high school junior getting ready to apply to college theater programs. As you've probably guessed, it's not an easy process; auditioning for acting programs in particular is a stressful, even terrifying endeavor. How do you put your best foot forward? Backstage sat down with admissions officers at three top-notch undergraduate programs for insight into auditions, the selection process, and what makes an application stand out.
"Ask to sit in on classes and feel what the vibe is," recommends Daniel Gary Busby, chair of the University of California, Irvine's drama department. If possible, he says, reach out to professors at schools you might be interested in and request a meeting or tour. "A really famous school could have a really crappy vibe. It might be perfect for one student but not right for another. Get an internal intuition about where's home."
UCI's drama program preps undergrads for the theater world with an immersive approach to professionalism—a month-long satellite program in NYC has students working with and auditioning for Broadway producers—but applicants are accepted based only on GPA and personal essays. "Even though Irvine doesn't audition to get in, students here are auditioning more than any other program nationwide," says Busby. Whether it's in an application or the audition room, "every young actor needs training. The only thing you can show is who you are authentically."
For Carl Forsman, dean of drama at University of North Carolina School of the Arts, authenticity is key as well. In addition to transcripts, recommendations, and personal artistic statements, UNCSA requires three monologues and an in-person interview. "It's really a chance to get to know the energy of the student a little bit," he says of the auditions, which number over 500 for only 28 slots. "I'm looking for people I want to spend four years with."
Having held so many auditions, Forsman knows exactly what makes an applicant distinct—and what doesn't. "No direct address speeches," he says firmly. "Any monologue where someone's talking to a group of people is a lost two minutes." When it comes to classical pieces, Forsman encourages "looking a bit afield: Fletcher, Molière, etc." For female students especially, Shakespearean roles are limited and therefore limiting; as Forsman says, if he sees 40 versions of Julia's speech from "Two Gentlemen of Verona," that's 40 girls who are in direct competition. Selecting something off the beaten path gets admissions officials to sit up in their seats.
Are filmed auditions any different? Forsman says as long as he can see and hear the applicant, the same rules apply. "And if you're filming on an iPhone, turn it sideways, landscape." Michael Staczar, director of theater at the University of Tampa, echoes that advice. "Try to pick a background that is nondescript," he says. "I love your living room, but you don't want to be upstaged by the drapery." Business casual dress, he adds, helps demonstrate a degree of professionalism.
When it comes to singing, Staczar recommends avoiding anything currently on Broadway. "Don't put yourself in competition with what's trendy and current right now. Do you really want to go up against Idina?" When choosing both songs and monologues, he says, the main objective should be showcasing the real you. Pick a piece you identify with and your natural instincts will shine through.
"I love doing the auditions because you palpably feel like you're meeting the future of American theater," says Forsman. "It's really exciting. Everybody wants to run away and join the circus." If joining the circus sounds like your calling, get in touch with the real you and find the material that will best show it off.
---
Don't Forget Volunteering!
Other than nailing an audition, how else can a high schooler beef up his or her college application? Exploring the intersection between volunteerism and the performing arts, according to these admissions officers, demonstrates depth and well-roundedness in an applicant. And working with the community doesn't just supplement your résumé—it makes you a better actor.
"The calling of the stage is kind of a mysterious thing; it is a little ego-driven," admits Forsman. "But it's often fueled by a desire to do something pretty profound. [I'm] looking for students to tell the truth, expose injustice, talk about equality, make people heard." There are countless reasons to get involved with live theater, and as an admissions officer looking for tomorrow's storytellers, he says, "I want it all."
Busby recommends volunteering in senior citizens' centers, food banks, or youth programs with an educational component. "One of the things [UCI] is keen on is what we call citizen artists: artists embedding themselves through their work in the lives of their communities, making their work relevant." There's no one way to do that, he says, but highlighting community service helps make an application pop.
Staczar agrees, saying he appreciates students who clearly understand performance is partially about giving back to the community. If an applicant is focused on more than just craft and business, he or she tends to be a good listener and more selfless performer. "Not only is this going to be a career," says Staczar of his students, "it's something that you can share with humanity."
Need some more help? Check out "6 Websites to Jumpstart Your College Research."