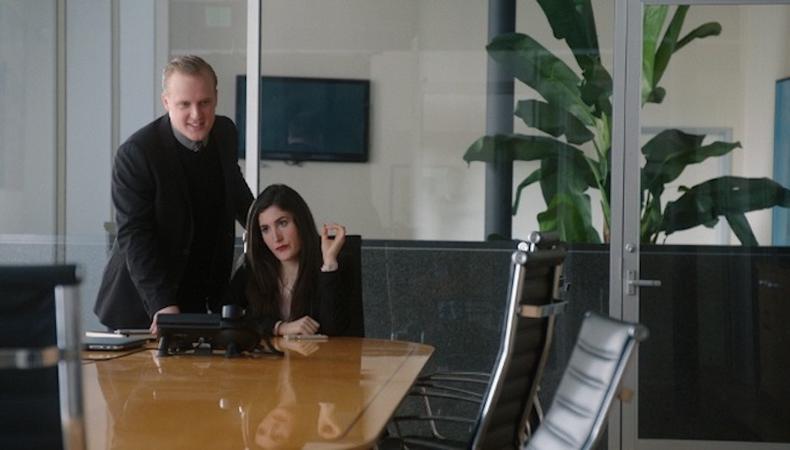 Backstage visited Vimeo's New York offices on Thursday, Feb. 2, for a Facebook Live interview with comedians Kate Berlant and John Early ("Search Party"). They are the stars and creators of Vimeo's new miniseries "555," an anthological series of shorts centered around two characters living and working in Los Angeles. We spoke with them about their creative process, the secret to a successful creative partner, and how to make it in the big city.
Enjoy the company of those you work with. Berlant said the most important thing to remember when building a comedic duo is that it should be with someone you like. "It helps to be friends; I don't think you can do it unless you enjoy the person," she said. "If there's no actual friendship chemistry, I can't imagine being able to make something good."
When building characters, think about how they relate to those around them. In creating characters for "555," Berlant explained that she and Early began with a central relationship and built their characters' personal traits from there. That differs from their solo sketches or standup routines, where characters are built on an individual basis. "['555' is] so built around the central relationship in the shorts that we conceive of the relationship first," Berlant said. Early added: "It's always, 'What kind of people would we like to play together?' We're thinking about the relationship before we're thinking about individual characters."
READ: Drew Droege Explains How to Build a Comedic Character
Know your type, and don't be afraid to put yourself out there. Both Berlant and Early found their comedic voices and styles while working in New York City. Early said that knowing his type from the start only helped his chances at success. "My angle when I wanted to do standup was very practical," he said. "I was like, 'I know that I will more likely be on "gay" shows; I'm more likely to get booked at this stage when I have no experience on a queer-themed show.' So I just got Time Out New York and I looked through all the shows, and I reached out to all the showrunners on Facebook."
Befriend others who are 'pushing through the inevitable brutality' of performing. Early is a huge proponent of befriending other performers within your city's established comedy scene. He recalled that after meeting Berlant, he would host her comedy show at Cake Shop when she went out of town. Berlant agreed, saying, "Starting a show is an amazing way to [meet other comedians]. You just meet people and you put people on your show and then they put you on their show. But even if you don't start a show, you just go to shows every night and do it. It's just repetition and pushing through the inevitable brutality."
Study up on the greats. When asked about comedy heroes, Early was quick to list the likes of Lisa Kudrow, Amy Sedaris, Sandra Bernhard, John Waters, and Jennifer Saunders as some of the talents who inspire him. "Unfortunately, a lot of my early inspirations were male because I was so trapped by patriarchy that those were the only figures I could relate to," Berlant deadpanned. She cited Christopher Guest, Jim Carrey, and Chris Farley. No matter the case, it is important for any actor to follow the careers of performers they admire and see what bits of wisdom they can cull from the greats before them.
Check out our TV audition listings!