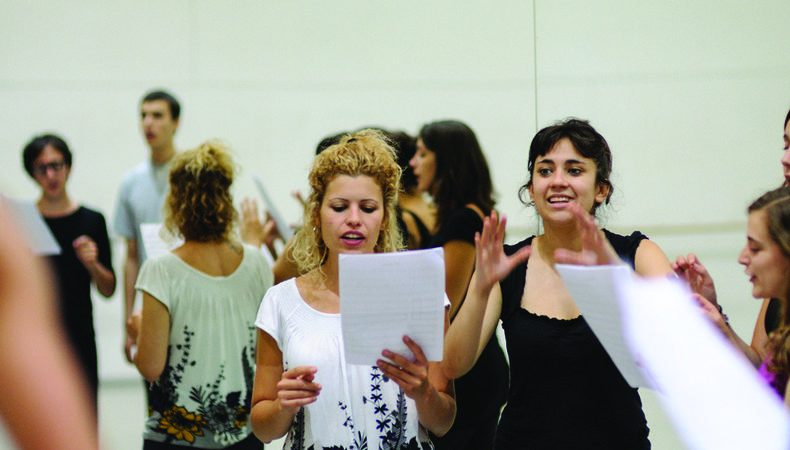 "Choosing a monologue is like asking, 'What dress should I wear to the party?' " says director-actor-teacher Karen Kohlhaas. "What's the party? Where is it?"
Who's going to be there? How long should I stay? How can I make an impression? These are more questions you might want to ask when attending the "party" of the audition room. And to be sure you're wearing the right attire and choosing the best monologue, you've got to ask specific questions; "What monologue is good for me?" isn't enough. "That's an incomplete question," says Kohlhaas. "They need to consider themselves as an actor, what it's for, who they're going to be in front of. You choose one monologue for a particular director and another monologue for another director, based on their style and your résumé. There are two, even three things to consider outside of 'What works for me?' "
As a founding member of the Atlantic Theater Company, the theater director, filmmaker, and senior teacher at the Atlantic Acting School has years of experience. She recently released the book "How to Choose a Monologue for Any Audition," compiling her years of knowledge—beginning with her involvement in the David Mamet– and William H. Macy–founded acting conservatory, where she would later teach—into one place to help actors choose audition material for everything from conservatory and graduate programs to EPAs, agents and managers, summer stock, casting directors, and on-camera auditions.
Regardless of the setting, Kohlhaas' tips for choosing the right monologue always include staying well-informed of what's available in terms of plays and playwrights, and knowing what good writing entails. "Actors can never read enough plays," she says before suggesting looking for writers who inspire feeling and who "get you." Finding one who complements your personality and temperament as an actor is "one of the most valuable things [actors] can find out. And the more they read, the more writers they'll find."
But there are other things to take into consideration outside of writer-actor connection, like not choosing an iconic part to perform at your audition. For those in the room with you, it'll be difficult to see past the actor who made the role famous, Kohlhaas says. She also advises choosing a monologue that will support you being seen in a way that's close to the part you're auditioning for.
"Often you can find a wonderful speech on the Internet," she says. "There are very witty people blogging, particularly for young women. The young female comedic is the hardest kind of monologue to find, but if you expand the search beyond the usual, and it's an acceptable choice in the audition—I wouldn't do it for Juilliard—you can find funny, topical, passionate writing on blogs that also sounds good out loud."
While finding suitable and well-written material is part of the battle, the other bit is memorizing the text well enough to properly direct yourself and perform it. When it comes to remembering monologue lines, one of Kohlhaas' methods is breaking the dialogue into smaller pieces or "chunks" to make it easier for actors to digest. Once that's been done, it's time to fine-tune your presence in the room.
"When I was a new director and teaching, I would see actors do monologues and I realized they weren't directing themselves, just hoping they'd be able to rely on having an acting connection," she says. "The staging wasn't set and so it didn't tell the story well because they'd freeze in one place or wander around; it's like sending a cast out with no staging!"
Getting the most out of your audition monologues means committing to the direction, time, effort, and thought that puts you in the best position to impress. And if you can incorporate Kohlhaas' tips into your prep process, you're sure to be putting your best foot forward.
Looking for new material for your next audition? Try "The Monologuer" for a customized search!