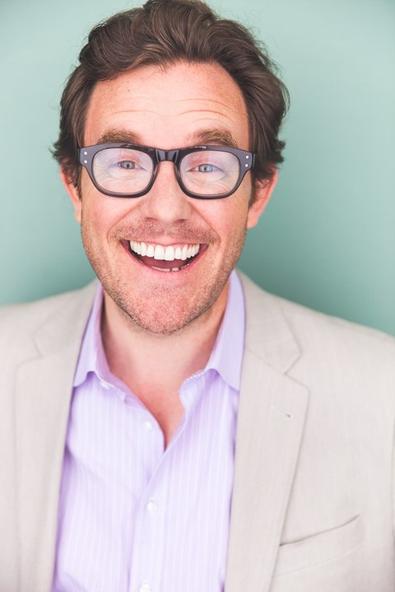 How do you form a theater company today? How do you create your own work? And most importantly, how do you make it great? Bedlam, a 2-year-old New York-based theater company, has answered such questions with a combination of ingenuity and sheer talent. Praised by mainstream media outlets during last year's Off-Broadway run of both Shaw's "Saint Joan" and Shakespeare's "Hamlet" with only four actors, Bedlam has emerged from the masses of young theater troupes that dominate downtown thanks to its emphasis on language, simplicity, immersive staging, and performing dual shows in repertory.
Artistic director Eric Tucker founded Bedlam alongside producing director Andrus Nichols in 2012 after meeting her at Shakespeare & Company in the Berkshires. "I thought, that's someone I could work with and who would help carry the burden of that whole thing," says Tucker. The two are currently appearing at the Sheen Center in Anya Reiss' new version of "The Seagull" and Kate Hamill's stage adaptation of "Sense and Sensibility," both of which Tucker also directs. "Everybody in both plays is feeling such repressed emotions about love and angst," he explains when asked about pairing Chekhov and Austen. "The unrequited love is huge in both plays. The way that comes out of each person and the way they hold it in and express it—there are a lot of similarities."
Ultimately Tucker attributes Bedlam's success to his tight-knit colleagues, who playfully inhabit each of Chekhov and Austen's characters with gusto and sincerity. "For me it came down to, I knew the 10 people I was going to work with." Tucker has plenty of other tips for young theater artists looking to create their own big break.
On founding Bedlam.
"Starting your own business in anything is a ton of work and it's not going to get paid a lot," admits Tucker. "As a [freelance] director I've always wanted to have a place I could go to work that's almost like your own little laboratory. Whether it fails or wins, if people like it or not, without anyone else's rules or any other aesthetic, you get to do your thing." Bedlam became that laboratory after Tucker and Nichols reached out to their most trusted friends and collaborators in New York, looking to flex both their acting muscles and demonstrate their directing-producing bona fides.
"You want to surround yourself with really talented people," says Tucker simply. "I think making your own work can be so rewarding. And you have to be prepared for all the little things you don't think of. Who's gonna clean the bathrooms? All the little things that go into producing are not glamorous; you just have to be prepared for it."
On the company's mission.
Outlining Bedlam's approach, Tucker took inspiration from London's Donmar Warehouse, which focuses on small-scale drama. "I think the crux of our mission has been about small budgets, big ideas," he says. "People can create really amazing things when they don't have a lot at their disposal. You have to use your imagination, and you also have to rely on the imagination of the audience." More than any other medium, Tucker adds, live theater has the power to amplify and reverberate. "I love that. I love when you're sitting in the theater and your jaw drops because of something someone says rather than maybe something you see. Something with a lot of spectacle can be thrilling but there's something about very pure, simple storytelling we wanted to get at."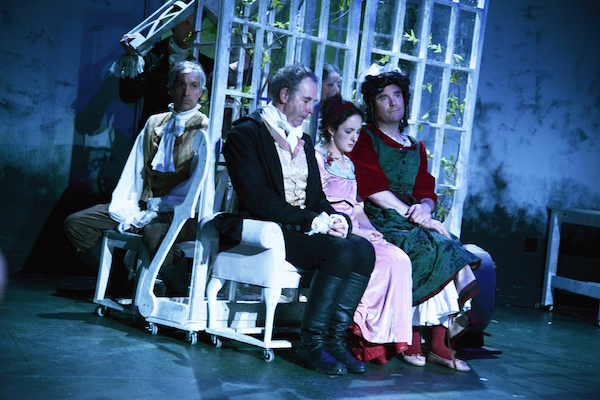 Stephan Wolfert, Nigel Gore, Kate Hamill, and Eric Tucker in "Sense and Sensibility." Photo by Elizabeth Nichols.
On performing in rep.
"Small budgets, big ideas," though, is a philosophy shared by dozens of other fledgling theater troupes. "There are so many companies in New York—small companies form up every day," Tucker points out. To set Bedlam apart, his colleagues decided to kick it up a notch. "Four of us doing 'Joan' pretty much uncut was hard. But then if we added in another play, like 'Hamlet,' that had an equal amount of weight to it and could be the same length and the same costumes and props and set, that would be a feat. I just thought we needed it to send out big smoke signals and get attention by doing something hard."
The smoke signals from "Saint Joan" and "Hamlet" were impressionable enough to compete with two other casts performing in rep last season: "Twelfth Night" and "Richard III" from Shakespeare's Globe starring Mark Rylance, as well as Patrick Stewart and Ian McKellen in "No Man's Land" and "Waiting for Godot." Tucker marveled at those titans of the stage, despite the fact he too was juggling the titular role of Hamlet and multiple characters in "Saint Joan." He remembers thinking, "Gosh, how do they know all that and then come back tomorrow and do a whole other play? Then I realize, Wait, I'm doing that!
"There's something so cool for an audience about creating a world and then tomorrow creating another one. Balancing the two plays is really a rich experience for performers, and for audience. It's hard." After becoming known as the tiny theater company that stages grand stories in rep, Bedlam had to tackle Chekhov and Austen simultaneously. "I thought for our second pairing, we couldn't not do that again," says Tucker.
On directing himself.
Then there's the fact that Tucker is acting in two productions he's also directing. "You're kind of put on the spot to lead by example," he explains. "Any note you throw out, you're taking yourself." In addition to welcoming conceptual ideas from his cast mates during the rehearsal process, Tucker brings in other directors to give notes as previews approach. "It's having that other eye you trust, who gets your way of working and the vision of it."
On memorizing text.
How on earth does one memorize thousands of Chekhovian or Shakespearean words? For Tucker, it all comes down to rehearsal time. These days, he notes, actors are rarely given more than three weeks to rehearse; Bedlam developed "Saint Joan" in eight weeks and "Hamlet" in eight more. "That was essential to having the text really in the body. When you're doing something very bare-bones that's a language play, then the language needs to be top-notch and the storytelling clear."
Providing time to help actors "marinate in it," as Tucker puts it, is the key to success for low-budget theaters looking to produce wordy classics. "When something is really, really good, people will hear about it and they'll go. Often people are so anxious, particularly out of school, or they've just moved here. They're anxious to start something or get their work out there so they can get an agent or whatever. I think sometimes it can be rushed.... You see it in the work, when the language isn't really in their bodies. The audiences see it and know. You have to pick a really phenomenal script, whether that's Shakespeare—and those are phenomenal—or something else, and then find a way to be patient and enjoy the rehearsal process and find a way to rehearse it long enough. It's just gotta be good."
To check out "The Seagull" and "Sense and Sensibility," visit Bedlam's website.
Inspired by this post? Check out our theater audition listings!