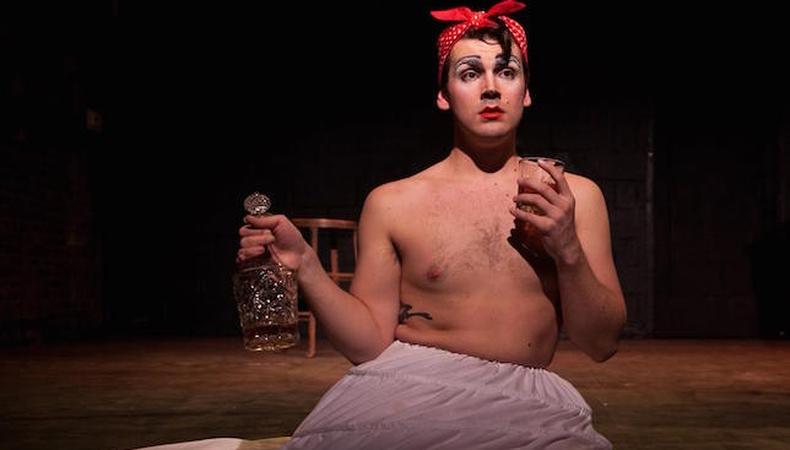 What drives someone to want to create theater without a net? We tracked down Brigham Mosley, one of the performers at Audacity Theatre Lab's third annual Dallas Solo Fest, and asked him about the process of putting together a solo show—such as his recent "Scarlett O'Hara and the War on Tara"—its solitary nature, and how it's best when written down… though not in stone.
What are the benefits of doing solo shows?
I love the form. It's so provocative and it is a way to use yourself to write something quickly about what's happening now [in the culture]. It's what theater does best, [allows audiences] to receive information without the guilt. You go to a rally and it can feel too close to home, but with theater you can process the feelings and ideas easier, because we use metaphors. The form [of a solo show] is so immediate, so reactive the way larger theater can't be.
Most solo artists, you included, write and perform their own work, which is often, autobiographical. You also use a director, though; why's that?
I love using a director because [solo writing] is so self-involved. To bring someone in who knows how I work, as well as my strengths as a writer and performer, means she's able to shape the play with an outsider's eye.
Also, solo work is just a super lonely practice; it's very meditative and you spend lot of time alone, so until you get a director in the room it's hard to understand what you're making.
Some solo artists script out everything, some are more free-form. Which do you prefer?
I love scripts. I really love having it written down. But you also have to acknowledge the moment [in the theater] and pursue it. I definitely go off-script sometimes—that's the thrill of being a solo performer. You have the ability to go off on someone coughing in the room. We can bring the house lights up to engage the audience, or if the joke is going OK you can push it further or if it is flopping, move on. It's important to go off-the-cuff and explore those moments… and then put them back into the script that can live on your GoogleDrive.
Solo shows seem to have proliferated in recent years. What do you think is the main appeal of them?
It is harder for [audiences] to sit back with a solo performer. There is a danger there—there isn't a [large cast or sets] to get lost in. Everyone is sitting up. You have to bring that into the performance.
Dallas Solo Fest runs now through June 12 at the Magnolia Lounge at Fair Park.
Inspired by this post? Check out our Texas audition listings!