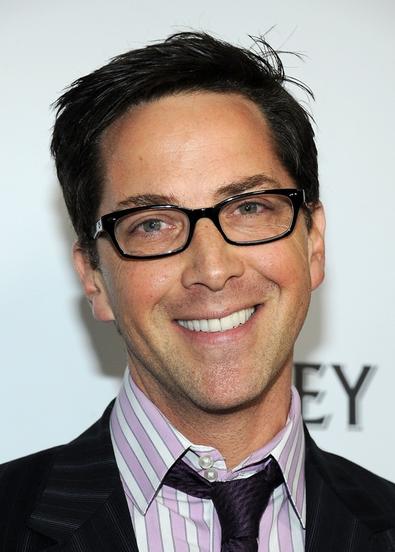 "I'm an actor first and I always will be," says Dan Bucatinsky who plays James on ABC's "Scandal." The role is close to Bucatinsky's heart. "Maybe because I'm older now and I am a gay dad in real life and I've written a book about being a gay dad and I play a gay dad…it feels really poetic for me to be able to play this right now," he says. Like his character, Bucatinsky is juggling a writing career with fatherhood.
But that's not all the actor's juggling. In addition to playing James, he's also a consulting producer on "Grey's Anatomy." When Bucatinsky approached Rhimes for permission to work on both shows, he says she was very supportive and told him, "'We'll know where to find you.'" Bucatinsky also just wrote a book called "Does This Baby Make Me Look Straight?," and is Lisa Kudrow's producing partner on "Web Therapy" and "Who Do You Think You Are?" Bucatinsky says it's like train hopping; he gets off "Scandal" and heads to "Grey's Anatomy," and so on. He shares some of what he's learned on the journey.
Don't give up
Even though he knew he was probably too clean-cut for the role, Bucatinsky initially read for Huck (played by Guillermo Diaz) on "Scandal," because loved the writing in the pilot. Although he didn't get the part, it wasn't a waste of time. "It was one of those classic situations where you hear good feedback - and I always tell actors it rarely is personal and you usually do good work, you're just not right for the part. And so Shonda was like 'I want to find something else,'" he says. A week later, he was called in to read for David Rosen which ended up being played by Joshua Malina. But true to her word, Rhimes found a part for Bucatinsky and offered him the role of James.
Don't make the audition more than it is
Auditioning is stressful, but Bucatinsky has tips on how to deal with the stress: "The biggest one, the more global one, has to do with not letting any particular audition or job mean too much," he says. "A job is just a job at the end of the day and work sometimes comes from the most unlikely places."
Don't psych yourself out
"I try to imagine that they've been waiting all day for me to come in with my performance…don't look at anybody on the other side of the table as the enemy or as anybody who wants you to do anything but succeed," Bucatinsky says. After being on the other side of the table, he's seen that desire for actors to come in and succeed first-hand. "Nobody on the other side of any table is your judger or your crucifier," he says. "They really are just part of a process and want as badly as you do for it to be right."
Don't wing it
There's no substitute for being prepared. "Good preparation is the best way to feel that confidence when you walk in a room," says Bucatinsky. When casting, Bucatinsky is mindful of his body language. "I try to keep my eyes up and look at the actor as much as possible because as an actor I hated watching other people looking at their phones. It's a whole psychology of making somebody feel like you are giving them your undivided attention."
Don't read too much into the audition
Bucatinsky says he tries to always be respectful of time. "I will be pretty respectful about knowing in my gut that person is really good but probably not right," he says. He honors the work the actor put in. "If an actress prepared three scenes I want them to be able to do all three scenes," but he says, "I don't believe in giving an actor a false sense… I won't give adjustments or advice or have them do it again and again or go outside and come back and do it again, just because I'm an actor and I want the actor to feel good." He notes that's one reason an actor shouldn't read too much into the actual feedback in the room.
Don't limit yourself
Early in his career, Bucatinsky started writing material that he could perform. After he made a film based on a play he'd written, doors began opening with writing opportunities. He partnered with Lisa Kudrow to produce content like "Who Do You Think You Are?," "The Comeback," and "Web Therapy." "Being multi-disciplined is always a good thing," says Bucatinsky, "I tried to do as many things as possible to be able to earn a living to afford me the freedom to be able to go on auditions and take acting jobs when I could, but the way it is, even working actors, if you're on five television shows in a year which is a great year, you're not earning enough money to support yourself…so I always encourage people to sort of tackle as many other aspects, especially of the entertainment business, as they can."
Don't wait for passion projects to come to you
"Sometimes we have to take on jobs that we don't love and I always encourage any creative person to use those as the fuel to do the things that you do love to do, even if they don't pay," says Bucatinsky. His advice? Get some friends together and go out and do something that you're passionate about. "Do the thing on YouTube, or film something yourself or put on a play at an Equity Waiver theater for no money at all." Bucatinsky says he's seen big actors take movies that don't have the best script because they pay really well. "[Those movies] afford them the freedom to make those small little indie films and I think you take that sort of movie star mentality and you apply it even to the struggling working actor," he says.