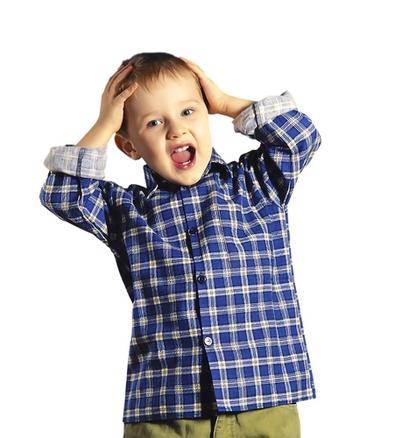 When my daughter Ashley was five years old, her favorite outfit was a neon green T-shirt with a pair of bright purple overalls. Did it match? No. Did she feel like a million bucks in it? Yes! She wore that outfit to every audition that year. We got some strange looks from the parents of kids in her age group, who probably thought that was the only outfit she owned. That year she booked 21 commercials, 18 of which had her actually wear that outfit in the commercials! She wore that outfit until it was held together by safety pins, and we finally had to retire it.
One of the most common questions that my staff and I get asked is "How should I dress my child for an audition?" Follow our guidelines below and you won't go wrong!
1. Avoid solid black, solid white and solid red. White washes out your child's face; red tends to "bleed" on-camera; and black makes the kids look like they are auditioning for "The Addams Family."
2. Bright colors, bright colors, bright colors! When a client has to watch a tape of 40 children saying the same line, you want your child to stand out from the others.
3. Absolutely no logos on clothing! This includes product names, designer names, and cartoon characters.
4. Keep clothing age-appropriate. Your 8-year-old should not dress like an 18-year-old going to a club. Avoid make-up and jewelry.
5. Don't force your child to wear an outfit that they don't like. Your child should be able to wear something that they feel good in. This will give them confidence when walking into the room and performing. Let THEM pick an outfit, unless they are 2 years old and only want to wear tutus and superhero capes.
6. Keep a log what your child wears. When they get a callback, you should put them in the exact same outfit that they auditioned in. You do not want to change whatever caught the eye of the casting director.
7. When you find an outfit that works, stick with it. 
I hope you all find your own green T-shirts and purple overalls!
Jackie Reid owns and operates L'il Angels Unlimited, a talent management company, which specializes in young actors for placements in film, television, theater, commercials, voiceover, and print media. She works extensively with agents in New York and L.A. She possesses an excellent eye for talent that both casting directors and agents value. She understands what it takes to support young actors as a stage mom to two children, one of whom currently plays Sinjin on Nickeldeon's hit series "Victorious." Follow her on Twitter @LilAngelsTalent and like her on Facebook.