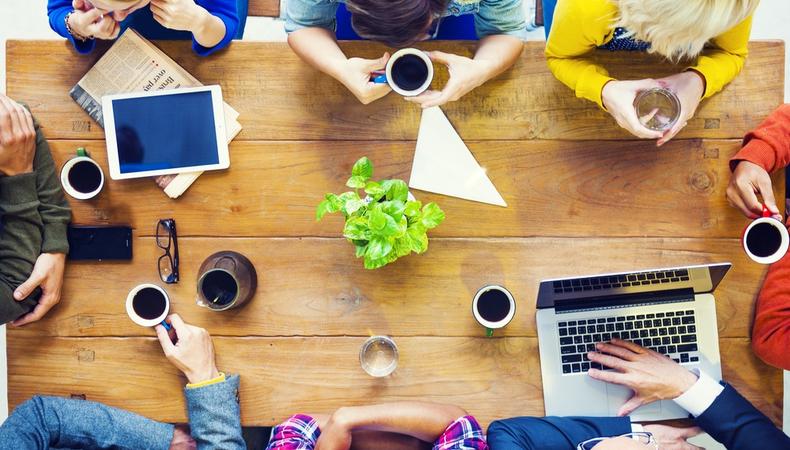 With nearly three dozen active playhouses and a film industry spreading quicker than the kudzu, Atlanta won't be giving up its title of Cultural Capital of the South anytime soon. Newcomers looking to break into the scene may feel overwhelmed by the possibilities at first—and confounded to find an apparent lack of networking events for actors and performing arts professionals.
One trick, veterans say, is to stop thinking in terms of New York or LA and remember that it takes a village to raise a curtain. This is especially obvious in the tight-knit theater community, but it also informs how Y'allywood does business. The famous Southern hospitality can be a real asset as you explore the cultural landscape and foster new connections. Here are a few ways to start.
Seek Out Talk-Backs, Workshops, and Seminars
If finding time for a weekly class sounds stressful, start smaller by attending one-off events. Marinella Hume Casting hosts seminars on how to wow casting directors and nail auditions. Talk-backs and lectures are key components of the Atlanta Film Festival and many other cultural series, plus easy avenues for making new contacts. The Shocking Real Life Academy teaches workshops on everything from screenplays to stand-up comedy.
Volunteer
Ushering, tearing tickets, even helping with office duties can make a huge impression on decision makers, especially in smaller, cash-strapped theaters. Most groups list volunteer needs online. Similar opportunities tend to be harder to find in the film industry—unless you count "working" as an extra. The gigs seldom pay more than $75 for 10 to 12-hour shifts, making it essentially a pro-bono effort. On the brighter side, being selected as an extra or stand-in can give you access to assistant directors and countless other production personnel. The schmoozing potential can grow with repeat casting. The Georgia Film, Music and Digital Entertainment Office offers invaluable guidance on how to get started.
Join a Performing Arts Group
The nonprofit Atlanta Coalition of Performing Arts has been a go-to support network for the city's theater, dance, music, and film arts for decades. Its audience-focused site runs a comprehensive list of current productions, while the industry portal delivers a wealth of information about auditions, jobs, and more. Similarly, anyone can join the Atlanta Area Theatre Mailing List, which keeps more than 3,700 members up to date on industry news and announcements.
Attend Industry Nights and Opening Receptions
Almost every theater in town offers at least one industry night during production runs, featuring reduced-price admission for colleagues in the creative field. The events are worth seeking out as a way of finding local actors engaged in casual, animated conversations about the scene. Ditto for opening night receptions—which can be pricier, but let you rub elbows and show support for homegrown theater. For information, follow your favorite theaters on social media or keep an eye on listings. Here are a few with a large and devoted Twitter following:
True Colors Theater
Horizon Theatre Company
Actor's Express
Take an Acting Class or Writing Workshop
Atlanta supplies an embarrassment of riches for stagecraft and creative writing classes, which can double as networking opportunities. Courses offered by the Alliance Theatre and Dad's Garage tend to be among the most popular in town, but they're by no means the only options. For would-be writers, Emory Continuing Education has ramped up its Screenwriting Certificate Program and brought on a seasoned crew of instructors. (Full disclosure: I also teach writing classes at ECE, though not screenwriting.)
Inspired by this post? Check out our Atlanta audition listings!