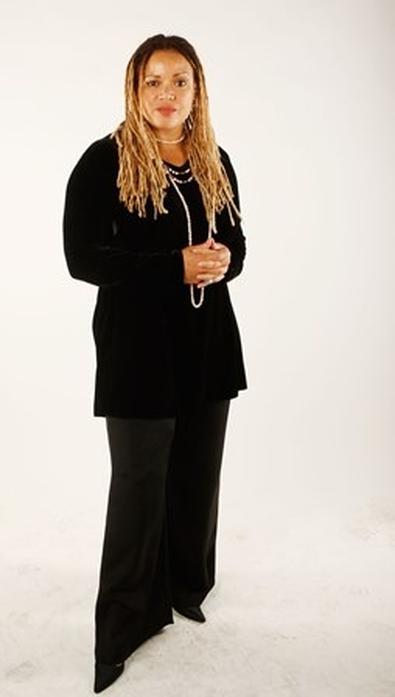 Kasi Lemmons is taking a new direction in her latest film, the inspirational musical Christmas story "Black Nativity," which hits theaters Nov. 27. The film is loosely based on the 1960s stage musical "Black Nativity" by Langston Hughes. When she was pitched the idea of writing and directing "Black Nativity" for the big screen, Lemmons says "All I remember thinking is 'Look no further. I'm the person for you. I have to direct this.'" Lemmons brings an original contemporary story to the adaptation and weaves it together with the "Black Nativity" story, all the while paying tribute to Langston Hughes.
We talked to Lemmons about her latest film and her creative journey including acting, writing, and directing.
Be open to new avenues.
Lemmons' journey to directing started with acting. Along the way she fell into writing, when she was hired to write a screenplay for Bill Cosby while auditioning for him. After being in Los Angeles for a while, Lemmons decided to take a pilot season off from acting to write an idea that she couldn't get out of her head— and that script became "Eve's Bayou." When she couldn't find a director for the film, she decided to direct it herself. "It wasn't like I put it together—it was the next step of making my career. It was like it just happened to be a journey into the director's chair," says Lemmons.
Find your way in.
"Writing is my way in," says Lemmons, who has written many of the films she's directed. Even if she's not writing the script, she's still involved in the process. For "Black Nativity," she found her way into the story in the early stages of putting together the pitch. "It didn't feel like it was going to be satisfying to me to just pitch the Nativity story. I wanted to make a contemporary story that would feel very relevant and very real about the problems facing families and especially in the African-American community."
Put together the right team.
Before casting, there was another important aspect of the "Black Nativity" creative team to be found. Lemmons says the biggest challenge was hiring the right musician to guide the musical direction of the film. She always knew she wanted to tell the story with original songs, so the musical direction was key in making the film work. "Once I decided that I wanted to do it with Raphael [Saadiq], then it became a matter of coercing him, and stalking him, and convincing him to do the movie with me." The first song Saadiq and his songwriting partner brought Lemmons was "Test of Faith." "Then I knew I was in good hands with these people," she says.
The top-notch acting team fell into place easily. Lemmons had most of the actors in mind while writing the script (Jennifer Hudson, Tyrese Gibson). "I would have been auditioning a lot for [Langston], but Jacob [Latimore] was the first person that walked in." Even though she saw more actors after him, Lemmons says, emotionally, she knew that she was going back to him.
Rehearse.
Lemmons says her directing style varies depending on the script, but she always rehearses before shooting. "'Eve's Bayou' was very specific to me, very structured and almost choreographed. 'The Caveman's Valentine' was completely different—I would let Sam [Samuel L. Jackson] go and then I would use what I thought was working and kind of step in." The rehearsals allow Lemmons to talk about and explore the characters and scenes with the actors so they understand her vision.
Work hard.
While Lemmons acts, writes, and directs, she says directing is definitely the most challenging—mainly because of the stamina it requires. "I probably work 90 hours a week for most of the year, and when I wasn't working 90 hours I was working 80 hours," she says. "It's a very, very stressful job and in the editing room you're turning around cuts like every 6 hours. It's really quite a difficult job with a specific skill set that's required and so it's harder to direct."
Appreciate everyone.
"[For 'Black Nativity'] I set about quite intentionally creating [a certain] environment—an environment where everything would be comfortable and happy." She wanted to create unity and hired people that she thought would be fun to work and collaborate with. Lemmons stresses the importance of creating a positive set for a successful film. "Don't melt down. You've got to stay sane and stay cool, and be nice to your crew, and thank everyone and be grateful. Show gratitude and appreciation." This attitude doesn't just bring out good performances from the actors, it creates an inclusive environment. "You never know when your life might be saved by craft services. Everybody is miserable and cold and exhausted and all of a sudden craft services comes through with cappuccinos and brownies and they save your day from taking a terrible turn. It's not just the actors, it's every single person on the set. You literally can't do it without them."