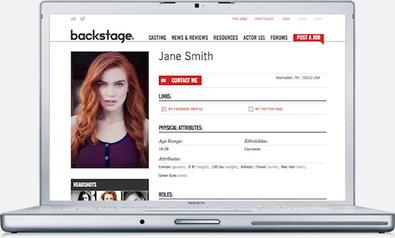 With all the hustle and bustle in the performing arts world, it's easy to neglect your Backstage actor's profile. So our in-house casting experts have created some helpful guidelines to increase your chances of being seen and coming up in casting searches and to ensure that you are using your acting profile to its full potential.
DOUBLE CHECK YOUR EMAIL ADDRESS
Be sure to use an email account that works. If you view acting as your profession, you should have an email designated specifically for casting needs. So carefully choose your email address, preferably one that you check often and is connected to your smartphone so you can receive up-to-date information about castings. Although using a working email address may seem obvious, we've seen a surprising number of emails from casting directors bounce due to actors accidentally having a typo in their email addresses or forgetting to update their email address in their Backstage.com account after they've changed email providers.
KEEP YOUR PROFILE UP TO DATE
Try to be as thorough as possible to ensure casting directors and other production personnel can find you. Follow the guidelines below to ensure that you will show up in all of the appropriate searches:
• PHOTO: Casting directors need to know what you look like! A great headshot is key, but also include a candid (nonprofessional) picture so the production team can get a sense of what you look like in natural light. A good selfie will do. Be sure to keep these pictures updated as your look changes.
• UNION STATUS: Union status is important. If you are in SAG-AFTRA or Equity, make sure to choose these organizations from the Union Membership fields in your Backstage profile editor. However, if you are currently SAG-eligible or Equity-eligible but not yet a full union member, do not choose these unions on your profile, because this could keep you from being contacted about nonunion work. Instead, you can note your union eligibility status in one of the text fields on your profile.
• AGE RANGE: Age range is extremely important. Something that sets Backstage apart from other casting sites is the ability to select a range as opposed to a specific number. You should choose an age-range that you can realistically play without needing old-age makeup. Choosing an unrealistic age range (like "15-99") will get you filtered out of relevant results, as it will annoy casting directors. Note: If you are 18 or over but know you can play a teenager, then you can select a teenage-to-adult age range for your profile. However, in a case like this, you should also note on your profile (and in your cover letters) whether or not you're legally 18+ because some projects cannot hire minors. So be honest about your age range and whether or not you're an adult or minor; it will ultimately save you and the casting director a lot of time. Backstage has a ton of roles for real kids and teens, too!
• ETHNICITY: You can choose multiple ethnicities for your profile. However, when choosing ethnicities, be realistic about what types you can portray. This will ensure that your profile appears in relevant search results, which will get you a better response.
• GENDER: You'd be surprised by how many subscribers forget to tag their profile with a gender! As a Backstage subscriber, you're in a database with thousands of other aspiring actors. Help casting directors find you for relevant roles by filling out all of the basic profile options available, including the gender you most identify with. And if you identify as gender neutral, then you also have the option of unspecifying your gender; and you can also clarify other gender specifications by including a note in one of the text fields on your profile.
• HEIGHT AND WEIGHT: A lot of actors worry that their height or weight is a disadvantage, which is not the case. Many famous faces are short in stature, and photo doubles and stand-ins are needed all the time for all types of performers. Furthermore, if a role is right for you your height and weight won't matter, and may even be beneficial in many cases. But let the CD know your accurate stats so that they can convey this information to the director ahead of time. While you're at it, include your body type, eye color, and hair color. This can help you get discovered for gigs that call for very specific physical types.
UPLOAD DOCUMENTS + VIDEOS
Upload a résumé, including your name, email, and phone number, along with all of the aforementioned details. And include any relevant links (such as your IMDb page) on your profile as well. And if you have a video or audio reel, make sure to include your reels on your profile. A video of you performing will work to your advantage by demonstrating your skills.
EXPERIENCE + SKILLS
We can't stress enough the importance of sharing a complete list of your credits, training, and skills. Filling out your Backstage profile completely will help you turn up in more relevant search results and will get you a better response form casting directors. Do you skateboard, ride horses, or have stage combat training? Make your profile stand out in the casting database. You never know who needs to hire someone for something extremely specific.
CONTACT INFORMATION
Many casting directors still like to use the phone, so include your cell number in the designated phone number field on your profile! Backstage's system keeps the phone number field semi-private, so it will only be seen by the productions you apply to. But if you feel uncomfortable having this on display, you could create a Google Voice number specifically designated for your casting phone calls. Remember, too, that much of the time productions are in a hurry, so if you get the call, there's a good chance you'll get in the game.
For a step-by-step rundown, check out the Backstage profile best practices.
Not a subscriber? Become one now!