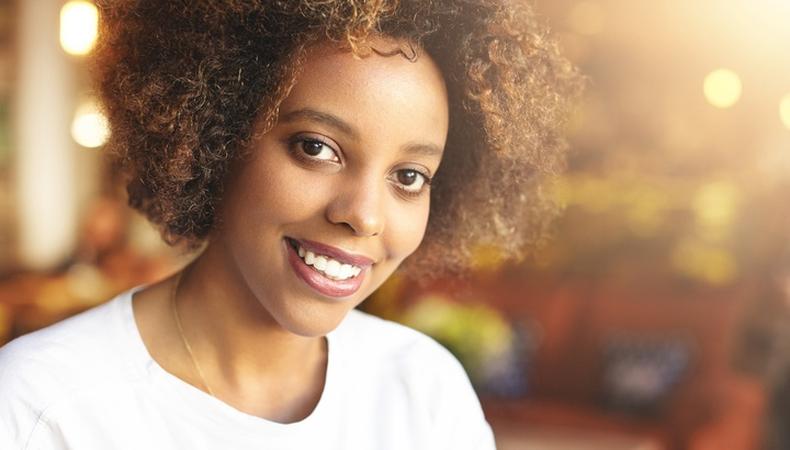 New York-area actors: Listen up! If you're an early career actor needing a new headshot for your Backstage profile or if you're a seasoned vet looking to revamp your calling card, Snapped may be the solution for you. The Manhattan-based professional photography company has been bringing hassle-free, affordable photography to the city for the last year, and it is now inviting actors and other local talent to join them for a "happy hour" photo session this Thursday, April 13 from 5 p.m.–7 p.m.
For $25, photographers Karl Ault and Sam Joseph will snap a few pictures, offer your options, and edit and send them to your to your inbox all before Friday morning. If you're an actor on the go who can't quite afford a traditional session, you can save some money and time while spicing up your actor's profile.
Below, we spoke with Joseph, who himself is an actor and photographer, about five tips he has for making the most of your time with any headshot photographer.
1. Know your type.
"What's your type? What shows and or stories are you trying to be a part of? Anything? Not specific enough! Are you the quirky neighbor on a sitcom? Or the hot detective on a hard-boiled procedural? The more specific you can get, the better you can direct your photographer. Personally, I like direction. A good headshot looks like you on a good day. A great headshot looks like you've already been cast in the show you know you're perfect for. You don't have to be tricky or make yourself look slimmer, buffer, or younger to look like the part you want. But looking like the part you're perfect for (right now) means when you walk in the door to a CD who only has seen your headshot, you're already fulfilling a promise. Your advertising has delivered what it promised—and you haven't even said a line yet."
2. Relax.
"This advice sounds generic and general, but it's really important. So stress the hell out about it right now! (Just kidding.) Being relaxed just makes for more authentic photos. We see more of you, more of your essence, more of what makes you special, all of which can help a CD bring you in for a role you're more likely to book. Do what you gotta do. Don't schedule a ton of things on a shoot day. Sleep in and rest up, or get up early and go for a run. Make a song list for the shoot. Whatever works for you. Just remember: It's your time and your dime. Don't let the photographer intimidate you and remember your photo day is all about you!"
3. Don't go with 'the best'—go with the best for YOU.
"Know your budget, know the style you want, and know whether or not you like the person who's gonna be in your face for at least an hour, cracking corny jokes and trying to beguile a genuine smile out of you. Before you book, see if they'll let you buy them a cup of coffee or at least submit to a phone interview. Remember, if you hate the photographer or are beyond nervous that you had to max out a credit card to afford the shots, your photos aren't gonna do what you need them to do, and that's authentically show your best self. So do your research, give the direction you need to and which serves your goals, then trust your guy or girl behind the lens."
4. Don't sweat the small stuff.
"I've had actors cancel shoots because they had acne, or ask me after taking photos they loved to then make them look 20 pounds thinner. First, acne and small (impermanent) blemishes can always be edited out. Skin blemishes, redness, hairs out of place, even someone photo-bombing in the background can most likely be edited away. You want the photo to look like you! Don't over-Photoshop."
5. Finally, wardrobe:
"This is the area where I get the most questions. I think it's because not only do we actor types like playing dress-up, but we know this is one of the few areas where we have control. The problem is we obsess over it and stress; and anything that brings stress into a photoshoot or audition room needs to be jettisoned. So first, grab that one 'go to' outfit you always wear—the one that you wear all the time and love; the one you feel safe and confident in. Make sure it's clean! And then lay it out for shoot day. That's your first outfit. I promise, even if you don't use any shots from that outfits section of the shoot, you will get better headshots if you start with it. I've seen it hundreds of times; you just warm up to the camera better when you feeling good, and that first outfit always helps! What always fails is starting with the new outfit you feel you spent too much on and you haven't gotten used to wearing yet. Save that one for last (or save your money and just borrow something from a friend). All that being said, I like clothes with textures and un-patterned jewel or pastel colors that don't distract. But what's most important is that your outfits are on message to what your trying to convey."
Interested in attending today's happy hour event? Purchase tickets here. And if you can't make it today, there's another Snapped event coming up April 27. For more information on Snapped, visit snapped.us.
Ready to break out in New York City? Check out our NYC audition listings!