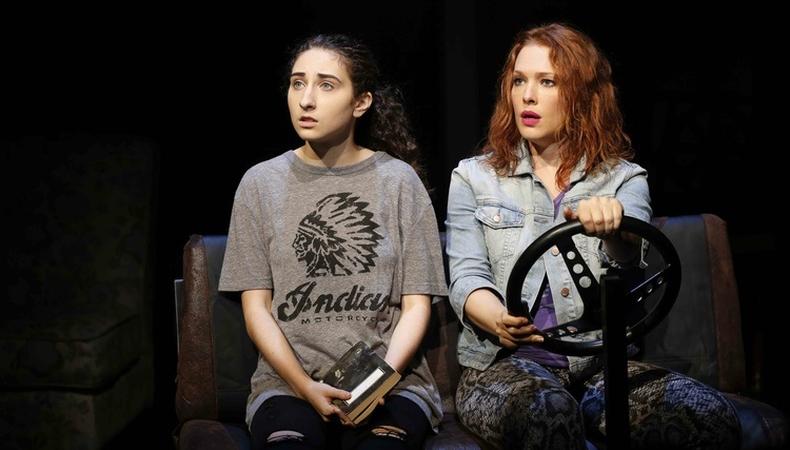 "My goal was never to be famous, but to be a consistently working actor," says Erin Cummings, who recently played Sura, the wife of Spartacus on the Starz's series "Spartacus: Blood and Sand," and will appear in the film "Cold Comes the Night," with Bryan Cranston later this year. After taking a hiatus from the stage to work in film and television, Cummings is making her New York theater debut in Primary Stage's production of "Harbor," which opens August 6 at 59E59 Theaters.
"Harbor," written by Chad Beguelin, is a dark comedy about the many dysfunctions of family. Cummings plays Donna, the volatile estranged sister, who unexpectedly drops in on her brother and his husband in their Hamptons home, triggering a family meltdown.
It was easy for Cummings to relate to Donna, despite her character's tendency to be emotionally all over the place. "I'm a cancer. I'm a really moody bitch," she says. "As awful as Donna is, she is kind of like me with no filter. She says what she wants; she does what she wants. I think under all of us, without the training to be proper human beings, we'd all be hot messes running around causing havoc."
We spoke to Cummings about accessing extreme emotion, the importance of self-promotion, and avoiding sleazy auditions.
Access emotion.
Cummings says playing Donna is the ultimate exercise in accessing emotion, as many scenes require sobbing or violent anger at the drop of a hat. Learning to unleash emotion quickly was a challenge, but Cummings says remembering the advice of an old acting teacher has helped her to master the role. "If you have to wait for an emotion to come, it never will. Whatever you have to do, just get it," she says. Director Mark Lamos, has also been crucial in helping Cummings to break down the minutiae of building emotion in a scene. "He's like, I want you to start crying by this line, so let's go back and start making her sad by here," she explains. "It's so funny because even carving out the emotion is technical," she says. "You want for the audience to have the same experience every night, you don't want to rob them of anything."
Don't take your clothes off at an audition.
When Cummings first started out, she took on several side gigs to make ends meet. "I waited tables, I went on craigslist and did odd jobs. I replaced toilet seats — any job that I could do and keep my clothes on," she says. Cummings learned early that it was easy to compromise yourself in this industry. "I had a meeting with a management agency once, and they did not sign me but one of the managers asked me on a date. I was like, 'Are you kidding me?'" she says. Cummings says she learned the necessity of turning down sleazier propositions, even if it seemed difficult at the time. "There are some sharks out there, and there are some lascivious characters, and it's hard to separate yourself from those characters," she says. "It's hard to say, 'No, I am not going to be Naked Girl Number 2 in the hot tub in your low budget indie film. I'm a serious actress, please don't ask me to take my shirt off in an audition and please don't ask me out on a date.'''
Build your resume.
After graduating from the University of North Texas with a degree in journalism, Cummings attended the London Academy of Music and Dramatic Art, where she trained in Shakespeare. "I knew that I had a strong work ethic, and I could work as hard as people who went to prestigious art schools," she says. "I had a certain degree of talent, and I needed something on my resume to legitimize me." After leaving LAMDA, agents and casting directors began to take her more seriously, since her resume was no longer comprised of just small indie productions. "I think it's true for men and for women, if you are even remotely attractive, people will assume you're just another pretty face and you don't have the work ethic or the talent to put in the time to flesh out a career," she says. "When they look at your resume, and they don't see anything substantial, it opens the door for them to think that about you. But going to London helped me to gain something on my resume that people would see and go, 'Oh, she studied Shakespeare in London.' I learned to feel differently about myself, and right after that, I booked my first Equity show."
Don't expect your agent to make your career.
Cummings went through a flock of agents before she found a team that worked for her, and she says she learned self-promotion is just an important as having good representation. "There's a big misconception in this industry, that you have to have an agent to get a job," she says. "To this day, as talented and wonderful as my agents are, and as much as I know they have my back, I still from time to time have to be like, 'Hey, did you hear about this role…'" Cummings will appear in an episode of the crime drama "Unforgettable" on Aug. 4, as main character Poppy Montgomery's lookalike. Cummings says she asked her agent to send her out for the part after realizing she resembled Montgomery and might be a good fit. "The proactive-ness never ends," she says. "I do hear about these actors who go on vacations to Bali for three months, and their agents are banging their heads against a wall trying to find their clients —but that's not me. I'm working hard everyday. Enjoy your vacation."
Take care of yourself.
Due to long, emotionally draining rehearsals for "Harbor" and a script that requires her character to eat cake once a show, Cummings has made lifestyle changes to ensure she has the energy and metabolism to handle her role. "It was a big discipline shift to go, OK, now I have to be in rehearsal six hours a day, and in the gym two hours a day on top of that," she says. The return to the stage was a rude awakening for Cummings, who says filming television wasn't nearly as hectic as her current gig. Without an understudy, Cummings realized she had to take better care of herself—she couldn't miss out on sleep and risk getting sick. "You have to have the discipline to cut back on your social life. It's not like I just show up and sit at a desk all day," she says. "You have do be alert. You have to be aware. You have to be ready and able to access emotions at the drop of a dime. So if you're tired or you're hung-over or you got into a fight with your boyfriend, it really messes with what's important."
Never make excuses.
Cummings knew her career in television would not necessarily guarantee her success on the New York stage. "With the New York theater world, it's not like anyone can waltz through the doors," she says. Cummings says she knew she had to prove herself, and she alone was responsible for mastering her part. "At the end of the day, you are solely responsible for your success and your failure," she says. "And the sooner you realize that, you accept that, and integrate that into your work ethic, you will start being successful. As long as you blame others for the reason you aren't where you want to be, you will always be a failure."