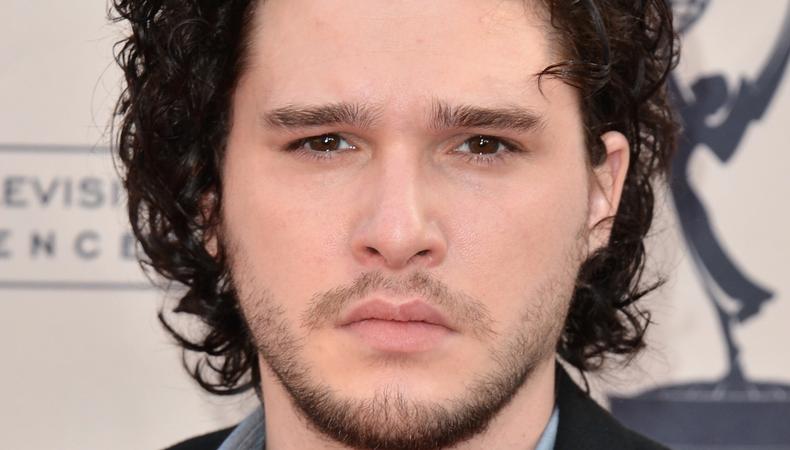 Not unlike Jon Snow, the hunky hero he portrays on "Game of Thrones," Kit Harington is something of a mystery. Not much is known about the actor, which he admits is "semi-intentional" on his part. "I'm still adjusting," he says of the sudden onslaught of attention from his first onscreen gig. "It seems to grow with each season, but I think it's got to plateau at some point. I think this season has got to be as popular as it can be." Point out that he's sounding rather tragic, and he laughs. "Yes, it's all downhill from here. There's my cynical, English side coming out," he says. Harington took the time to speak to Backstage about how he achieved his brief but impressive career.
Go to 'War.'
Harington was in his final year at Central School of Speech and Drama in 2008 when he had the opportunity to audition for the original production of "War Horse." After three auditions, he was told he landed the coveted role of Albert, who follows his beloved horse Joey into World War I. "I was in rehearsal for a play at school when I got word," he says. "It's still the biggest moment of my career." Harington actually finished his school play and graduated before going to work on the show. It was a difficult, rewarding experience, he says. "The puppeteers were amazing; they really captured people's imagination," he says. "I'd take friends backstage and show them the puppet, and they'd get really emotional." Though he did audition for Steven Spielberg's film version, he says he was somewhat happy to say goodbye to Albert. "I'd done it for a year and I was gutted by then," he says. "It was a grueling thing to do. Whoever's playing Albert at the moment, my heart goes out to them."
Be 'Game' to play.
Shortly after finishing "War Horse," Harington had the opportunity to audition for Jon Snow. "Sometimes you get a really good feeling about auditions, and that one I had a good feeling about," he says. "And when you have that good feeling, you go in with confidence." Like "War Horse," he had three auditions—his final one was a scene with his Wildling love interest, Ygritte. It was a scene from season three, one that only recently aired. "The producers plan so far ahead in their head, they know exactly where things are going with the show. And it was important to them to see that someone could do this love story further down the line," he says. " So one was a scene in season three that we've just seen, where Jon tells Ygritte she can't win the war. It was weird getting to that scene this season." The only hitch: the actor playing Ygritte (Rose Leslie) wouldn't be cast for another year, so he read opposite a male casting director. "He was actually great!" Harington says with a laugh. "He gave me a lot to work with." After landing the part, Harington read all the "Fire and Ice" books upon which the show is based—though two have yet to be written. Does he ever hit up author George RR Martin for hints? "He'll give you winks and nudges, that's all," Harington says. "But he keeps it pretty close to his chest, which he should. Still, it's not hard to play someone without knowing how it will end up, that's how it is with most TV shows."
Laugh at yourself.
Harington says he realized what a massive hit "Game of Thrones" was about the time he noticed it being referenced in pop culture—most notably on "The Simpsons" and in a sketch on "Saturday Night Live" where he was played by Taran Killam. And what did he think of the impersonation? "I thought it was scarily good!" he says with a laugh. "I'm not easily offended or put off by things like that. I was incredibly honored. It's a weird thing to be impersonated, it's even weirder when it's accurately done."
Let the bad times go.
That sense of humor also comes in handy when dealing with difficult auditions. "I remember I had to play a blind person once, and I did this stupid thing with my eyes and I knew the minute I started it I'd made a mistake," he says. "But there's nothing you can do, you just have to throw it away and say that one's gone." Naturally, he didn't get the part. "They were absolutely right not to give me the part! If they'd given me the part, I would have questioned the whole project," he says.
Learn to keep secrets.
Harington admits he is required to audition less and less, thanks to the success of "Thrones." He's recently wrapped "The Seventh Son," opposite Jeff Bridges and Julianne Moore, and is currently shooting "Pompeii" with Kiefer Sutherland. He'll also lend his voice to the animated sequel "How to Train Your Dragon 2." The main downside to his rising profile? "People try to trip you up," he says. "They want to trick you into telling them what's going to happen. I've become a master at avoiding spoilers now." With the show set to start filming season four in July, what can he tell us? Harington laughs. "I don't even know yet, that's the funny thing!"
Inspired by this post? Check out our television audition listings!