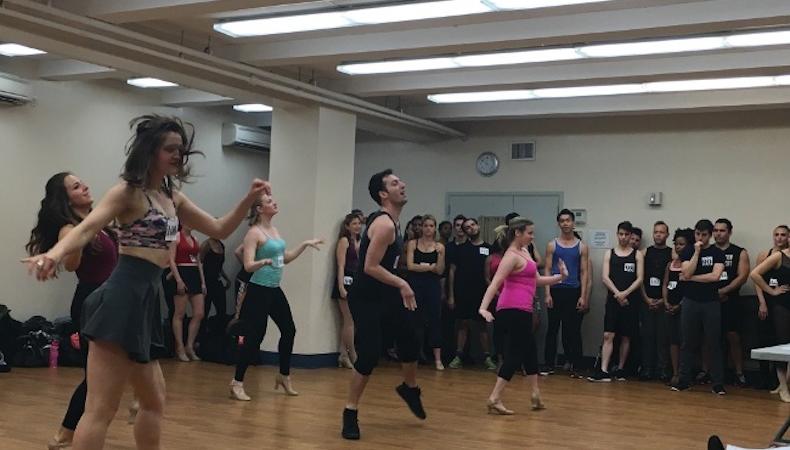 Representation or no representation? That is the question that haunts many working actors. Getting an agent is an important milestone in any career, but many performers are confused about how landing representation actually works. Luckily, both the founder and vice president of Across the Board Talent Agency sat down with Backstage to talk about what goes into recruiting new clients.
ATB is a bicoastal agency that works with both union and nonunion actors in theater, TV, film, and print. Its founder, Guy Kochlani, and Vice President of Talent Todd Eskin hold open call auditions to find the brightest up-and-coming stars in the industry.
"I like doing this because I get to experience what [actors are] gonna do in the room," explained Eskin when the duo held auditions at Pearl Studios in New York City on May 2 and 3.
The way you walk into the room is integral in making a good first impression, the two emphasized. "We're human. We're going to judge you the second we see you," said Eskin. "So the minute you walk in that door, be prepared."
Think about what you'll wear to your audition beforehand; it says a lot about how you market yourself as an actor before you even open your mouth. Individuality is encouraged and should come into play during an audition, but an outfit should not distract from the reason you're in the room in the first place: to perform.
In addition to clothing choice, your audition material should reflect where you see yourself in the industry. "Know your market, know yourself. You are a product," said Kochlani. "Where are you gonna be selling yourself to? If you're the funny guy, do a funny scene. You're the creepy dramatic guy? Do a dramatic scene."
For TV and film auditions, Kochlani suggested knowing the ins and outs of the material. "Specifically for TV, I would always say know the show that you're reading for. There's a specific beat; if you go in for 'Modern Family' or you go in for 'House of Cards'—completely two different beats."
Another tip? Kochlani and Eskin agree that actors should not come anywhere near the table when greeting the people they are auditioning for. Handshakes may be common courtesy in the world of business, but in the acting industry, Kochlani says, "It screams amateur."
If talented actors do all these things right, there could be a spot for them at ATB! However, many actors are confused about how to proceed with their careers after getting signed.
"Your job doesn't change when you get representation," Eskin stressed. "You cannot sit back and wait for an agent to do everything. You need to be working twice as hard as you were before you got the representation, because it's a two-way street. Everyone's gotta be working really hard."
Looking for advice on how to audition for representation via self-tape? Check out the video below!