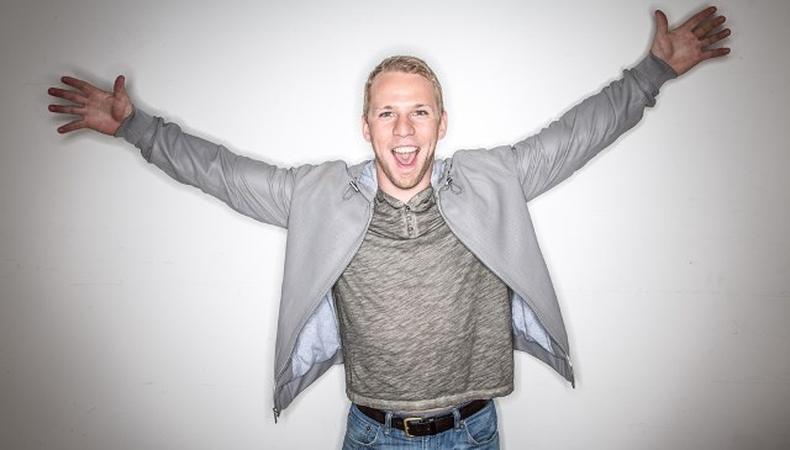 John Gammon has established himself as an honorary member of the Heck family on ABC's "The Middle." Gammon plays Darrin, who is now both Axl's (Charlie McDermott) best friend and Sue's (Eden Sher's) romantic interest. But the actor notes that the rest of Season 5 might be a little rocky for Sue and Darrin. "Hopefully, she doesn't dump me and hopefully I don't get pissed off enough to dump her," he says.
Ironically, Darrin is not the role that Gammon initially auditioned for. He was brought in for Trevor, a one-line role. After auditioning, he ran into the casting director, G. Charles Wright, at the grocery store. "I got to shake his hand, which was a big deal," says Gammon. Wright assured him that he did a good job, even though he hadn't gotten the role, and even told Gammon that he planned to bring him in for another role. He followed through, and Gammon was cast as Darrin, which turned out to be a much better gig.
Gammon chats with Backstage and shares advice that he's learned from his time on "The Middle."
Make the most of every opportunity.
Darrin was initially a co-star role that could possibly recur, but Gammon says, "They just kept calling me back and writing me in. There's been so much momentum since then." He had no idea the role would develop into what it has, "but people responded really well to it and I did really well with the boys. Ever since then, it's become its own thing."
Be willing to try everything.
When Gammon is preparing for a role, he says, "I'm of the school of thought that anything new is anything better." He approaches material by reading it himself initially, then rehearsing it, and then reading it with others. He welcomes all notes, because incorporating them keeps him flexible. "The most important part [of preparation] is to have it together enough to where I'm word-perfect, especially for TV auditions where they don't want you touching a word, [but also] doughy enough to mold into anything that they would like you to do with it."
Let it go.
Gammon is very comfortable with auditioning and sees it as his chance to act that day. But if he does have an audition that he's not pleased with, he says, "I just speak out loud about it in the car, before I move the car…I talk out and just let it go. But I don't go for more than five minutes, because that's when I know I'm kind of indulging myself."
Find work you can afford to lose.
Gammon says one challenge of an acting career is keeping a day job. "One of the worst things you can say is 'I'm working on a show,' or 'I might be needed on a show,' because they know how ridiculously unpredictable it is and they can't necessarily count on you." He had to learn to balance his money so it wouldn't matter if he had to leave his restaurant job.
Watch and listen on set.
One of the most valuable lessons Gammon has learned from working with veteran actor Neil Flynn is to view the job as an apprenticeship. "You got a whole bunch of masters walking around, and your number one priority is picking up all the practical information that you can, and just watching and learning and seeing how it goes."
Keep creating.
Gammon is not wasting any time. When he's not working on "The Middle," he's been working with his brother on a pilot about golf caddies that they plan to pitch. Of course, he's also keeping busy auditioning for more projects and doing open mic nights whenever he has the chance.
Pace yourself.
"It's a marathon, not a sprint," and Gammon recommends finding consistency in L.A., including friends and activities you can count on. "For me, jujitsu changed my life. It's a great way to keep yourself occupied and strong mentally, spiritually and physically, in between your auditions."
Be happy.
"Don't come at acting from the place of insecurity and a place of absence. Don't come at it from a place of deficit where you must do it in order to fill yourself," Gammon advises. He believes you have to be happy and fulfilled on your own before you can truly be the best actor possible.