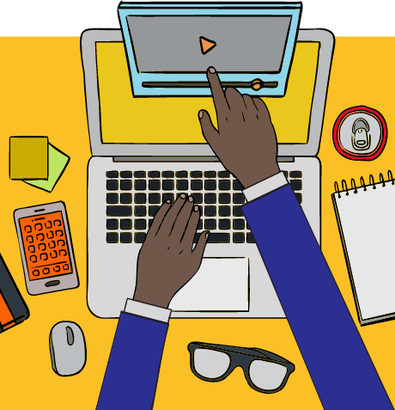 Web series require so many phases: fundraising, writing, casting, filming, editing, uploading, and…marketing!
There's your first mistake. Marketing needs to be a part of the process from the beginning.
Creating a successful Web series takes serious time, money, and energy, but so does building an audience! I'd suggest spending the bulk of your money on production while investing ample time and energy on marketing.
Design can be a deciding factor for an actor signing on or audiences supporting the show. Therefore, I would invest in professional branding and design from the beginning. It'll help you become clear on what your show's about and who it's for, as well as energize you, your cast, and your audience.
Then, choose a distribution channel. I'd suggest YouTube or Vimeo. Choosing one place to see the series will make it easier to direct people and track analytics. Your channel (as well as, perhaps, the end of each episode) should encourage social shares and subscriptions.
If you have room in your budget, you should certainly create your own "wow" website—something to really impress consumers. However, if budget's a concern, set up domain forwarding to your distribution channel and make a professional website for Season 2!
In terms of social media, go as large or small as your resources allow. You may not want to squander your resources on designing and feeding too many platforms. Facebook advertising is a great way to reach a targeted audience. Perhaps invest in ads to direct people to your channel or website (versus building and feeding an entire page).
What's best for social (regardless of where or how many platforms you create) is to come up with a #SeriesHashtag. Make it short, easy, and memorable so that your audience and company can find, share, or create content for you.
Being social and transparent throughout your process will help build excitement. Start by revealing your branding and designed channel. Don't be afraid to share lots of exclusive behind-the-scenes content along the way of production—perhaps a #BTS series on Periscope? Your crowdfunding campaign (if required) is also a huge opportunity to build excitement and an initial audience.
By marketing throughout your process, you garner a loyal audience waiting for the final product. This translates to momentum, accountability, and support.
I'd encourage you to "celebratize" your cast, crew, and investors. You can do this through exclusive interviews, features, production stills, preview scenes, gifs, memes, etc. Get creative and make each character count. Don't forget to use your #SeriesHashtag!
Harnessing the power of existing audiences (or affinity groups) by tagging them in awesome, share-worthy content is going to help you spread your reach. Make sure you're creating periphery content people will want to share! Sure, it's helpful to have celebrities or influencers get involved, but don't discount any of your brand advocates. Sometimes small followings are the most engaged.
Finally, make sure to schedule and market your release date. Write a press release and submit to old and new media—TV, radio, print, websites, blogs, podcasts, etc. Having media and press coverage is going to be helpful. Host a launch party to generate extra buzz, media, and content.
Creating a successful Web series requires time, money, and energy—but you can do it! Even if your first series doesn't go viral, it's going to teach you a lot for the next one. Go make things happen. The World Wide Web is waiting.
I'd be happy to assist with your marketing. Learn more at GetCreativeSocialMedia.com.
Like this advice? Check out more from our Backstage Experts!