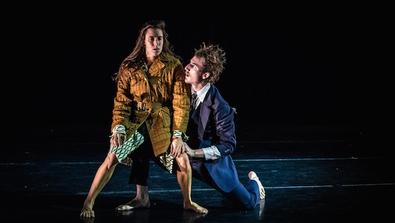 Contemporary dance choreographer and teacher Shannon Gillen is merging her love for Michelangelo Antonioni's 1970s films "Blow-up" and "Red Desert," directors David Lynch and Alfred Hitchcock, and dance theater to bring NYC audiences "Separati," a 60-minute dive into the spaces between reality and perception, and the past and future.
"I think my biggest love is really film to a certain extent, but building dance work—and dance theater in particular, which isn't a genre you see often here in New York—gives you full permission to create environments that allow audiences to take a very trippy ride," says Gillen. "That's what I love about live performance that works in a cinematic way, that it gives audiences permission to let go."
Performed by the Gillen-founded the nonprofit Vim Vigor Dance Company, the surrealist exploration through movement features a mix of monologues, real-world staging, and dance from multi-national performers Jason Cianciulli, Slovakian native Martin Durov, German performer Laja Field, actor-dancer Lavinia Vago, and NYU Tisch School of the Arts graduate Emma Whiteley.
Working full-time with the ensemble since September, "which is a phenomena that I think doesn't happen enough in New York," says the choreographer, she's taken a holistic approach to creating "Separati" by composing the music alongside the dance process, in addition to involving lighting design and dramaturgical support from the start.
She extends the inclusive method to her new company as well, pushing them to comprehensively include dance in addition to acting in their performances.
"A triple threat, it's massive in, but limited to musical theater, and in a weird way contemporary dance is having an awakening where that same value system is taking hold," says Gillen. "There was a clash point where I was like, Gosh, I wish I was able to act on stage"; she later took classes with Maggie Flanigan and found the investment "gives you so much more to do and feel and be and imagine than just being a choreographer."
As Flanigan's Meisner-based teachings advocate, Gillen's show taps into "truth under imaginary circumstances" and creates a fantasy based in real-life experiences Gillen had as a child while taking family road trips.
"[I remember] waking up at random gas stations in the middle of the night and encountering colossal figures for a 7 or 8 year old—people who were strangely specific and wildly anonymous at the same time that left this visceral imprint in my mind," she says. The show is in part the result of Gillen digging into the possibilities of these characters around props often seen at highway rest stops such as a lone telephone booth—an image Gillen says she covets.
"Separati" features huge movements and, to some extent "violence," as Gillen describes it, to lure audiences in, while requiring complete commitment to the medium from its performers.
"You have to risk looking like an idiot in all sorts of different areas," the creator says. "In dance there's this idea you have to be slick all the time, and dance theater is about being so exposed, and destroying and rebuilding and digging into areas in your craft or psyche that haven't been touched in a long time, if ever. You have to be committed to the medium being your life, which is a very different process to showing up, clocking in, and feeling fantastic everyday. It's a terrifying process so I encourage a different timeline because if you don't play the long game, I don't know what game you're playing.
"I still feel like I have everything to learn so I embolden the amateur theater artist. It's the only way to change this field and make it vital for someone outside of our community."
Vim Vigor's "Separati" runs Jan. 28–30 at the Gelsey Kirkland Arts Center in Brooklyn, New York. Click here for tickets.
Inspired by this post? Check out our dance audition listings!