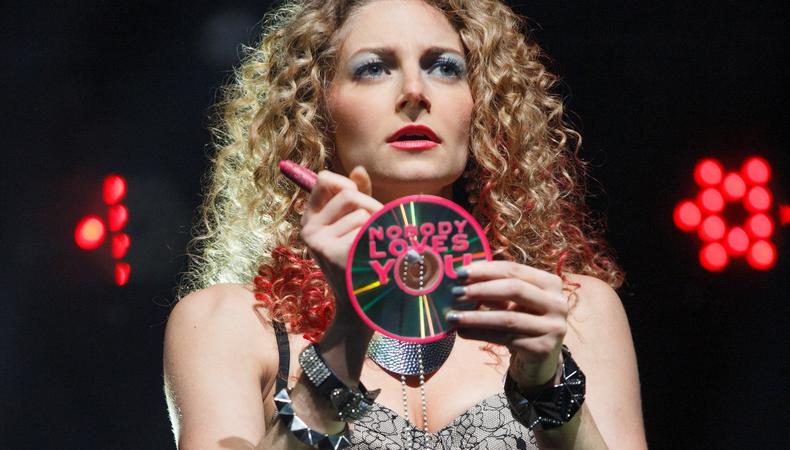 "My career has just been every other show is an opposite. An opposite style, an opposite tone," says Lauren Molina, who has been a prominent part of the New York theater scene since playing Johanna in the 2005 revival of "Sweeney Todd." She's appeared in other revivals like "Candide" and "Marry Me A Little" and originated the role of Regina in "Rock of Ages." She is currently starring in the new musical "Nobody Loves You" at Second Stage as Megan, which she also originated. She first played the role in 2008 and has played it in every reading and workshop since, as well as in the first full production at San Diego's Old Globe last summer.
"Nobody Loves You," with music and lyrics by Gaby Alter and book and lyrics by Itamar Moses, is about a philosophy grad student who gets cast in a dating reality show. Megan is one of the contestants. "Megan is a character that I absolutely love to play," says Molina. "She's a party girl. She's like the hooker with a heart of gold, but she's not a hooker. She wants to be loved. She has a really strong sense of self, but is aggressive and she's a drinker. She definitely does whatever she wants whenever she wants." Molina says the character has evolved over the various readings and has more of a journey now than in previous versions.
We spoke to Molina about the differences between revivals and new work, crazy auditions, and taking off her clothes onstage.
Make It Your Own
Molina doesn't have a preference for revivals or new musicals. When she is in a revival, she tries not to listen to previous versions to make her take as fresh as possible with the director's vision in mind. "I approach new characters and revival characters in a similar fashion—from the ground up and figuring out what the text is saying, what story I'm telling, how these characters relate to who I am, and what I can connect to them in my own sense of self and sense of humor," she says.
Don't Be Afraid to Take Off Your Clothes
In "Nobody Loves You," Molina has a scene in her underwear, which isn't that unusual for her. She's stripped in many shows, as well as in the comedy burlesque duo The Skivvies, which she started with Nick Cearley. "I used to have body issues like any girl," she says. At her first costume fitting for "Rock of Ages," she was given a tiny pink thong, which she was hesitant about, but went for it because of the support of her costume designer. "Wearing that costume made me feel for the first time in my life empowered in my sexuality and my body on stage," she says.
She's learned that when you take your clothes off on stage, everyone is on your side. "You think that you're being judged, but truly by exposing yourself, everyone in the audience feels with you," she explains. "On TV and movies I suppose it's different because you're under the microscope so much. I haven't experienced that, but in theater because there's such a feeling that we're all in this moment together, there's a vulnerability that's thrilling. And it's scary, but the audience really is on your side. I think for people who have to take their clothes off in any way on stage, just take a deep breath and know that everyone will be supportive of you no matter what you look like."
Take Risks
Molina was offered the role for the first reading of "Nobody Loves You" and kept getting asked back. She did have to re-audition for the Off-Broadway production, but sometimes it's the auditions you don't get that are the most memorable. Molina auditioned to be Sutton Foster's replacement in "The Drowsy Chaperone." She was asked to perform "Show Off" in its entirety, which includes a long dance break. Molina describes herself as not a "dancer dancer," but wanted to be memorable. "I brought in my bag of tricks, which was several instruments, several costumes, costume changes that I could rip off, and magic tricks," she says. When she arrived at the audition with layers of clothes and boxes of props, she was informed that she would only need to sing the last 16 bars of the song, but Molina insisted on performing what she prepared. "I literally did the entire song full-production style with cartwheels, all of the dance tricks I could pull out, musical instruments, and when I was done the people behind the table were all clapping and they were like, 'Wow, we've never seen anything like that.'" Even though she didn't get the part, she considers it an achievement because she went out of her comfort zone and put her own original spin on the song.
Don't Take Things Personally
Twitter features heavily in "Nobody Loves You," which is about the way people watch reality shows, often tweeting along. Molina will read tweets about her shows, as well as reviews. She is interested to know what audiences think. "I'm generally not affected by anything bad that's said because if you believe the good, you have to believe the bad too. And all you can do is be strong and confident enough and not be affected what some random 13 year old in Podunk, Iowa has to say," she says. "It's unfortunate when people read them and get affected by them because once a seed is planted it can really upset you and mess with your head. As a performer if someone mentions one thing about a specific line you say, then each time someone mentions that line, it's going to pop into your head and you're going to be self-conscious about it. Some people can't read them, but I don't have a problem reading them. So everyone can just tweet me their thoughts."