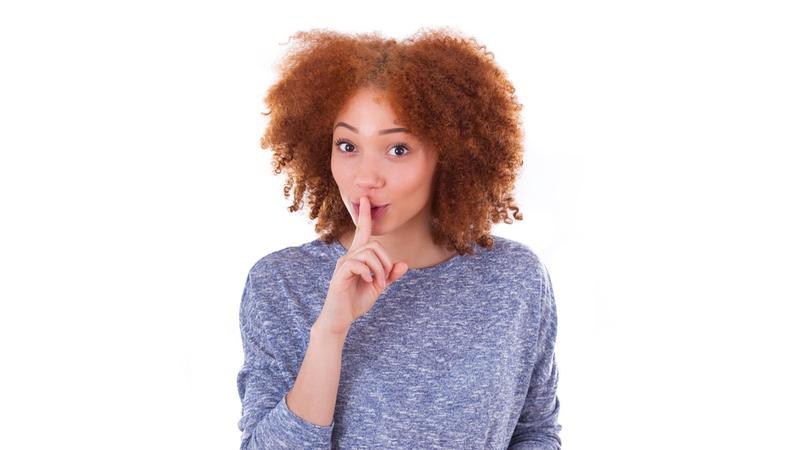 Shut up! I know that sounds rude but I only want to help you to improve your camera and stage acting. And I'm sure those of you who regularly watch my training videos are thinking, That woman never shuts up! (That is an astute observation, by the way.) But please bear with me as I explain the method to this madness.
I use this very curt (and somewhat rude) direction because it is short and sweet and seems to get your attention. I beg students all the time to stop "line acting." If you only act when you are talking, you are, basically, leaving most other tools on the table and putting all of your acting into how you say the line. But you are forgetting that the writer wrote the whole scene with the dinosaurs chasing you and the vampires sucking your blood and the look in your eyes as you fall in love.
And your best acting on camera is usually when you aren't talking. If you ask a good film editor what she most needs from actors, she will very probably say that she would love more reactions while other actors are speaking. That is what is going to make up much of the final edit of the scene. SO here are three tips on knowing when to stop speaking!
(Note: As with any quick tips, these are meant to enhance—not to take the place of—the other rich acting tools that you might regularly use.)
Dramatic Beat
I am not referring to objective beats here, but to a timing beat almost like you would put into music. If you have a very dramatic moment, you will usually have a stronger punch if you put in a beat (a pause) right before the power line. This is especially true for camera close-ups. Instead of just saying your lines, use your energy and eyes to speak more powerfully in that moment. Try giving more importance to the silence and less to the line.
A beat can be enhanced by a movement. You may lean in or make a movement with a prop or look up with your eyes in that beat. If you are onstage, you may make a body movement like stopping dead (shut up) and then turning back to the person before delivering the power line.
Commercial Beat
When I teach commercial auditions, I often tell students to use clean beats:
1. Make a face (shut up). 2. Then say a line.
I know it sounds overly simplistic but it is highly effective. Obviously, the faces are coming from something real that the character is feeling (like being excited about the French fries they are selling). Often I suggest that a student put that clean beat in just by slightly changing the angle of the face. Basically, you will end up with these fun beats before every phrase. Especially apply it before saying the name of the product. These beats really make the commercial pop.
Comic Timing
I've done lots of comedy as an actor and coach. I shot Debby Ryan's audition for her big Disney break. In basic comedy, use clean beats.
Apply the same idea I just suggested above for commercials for basic comic timing:
1. Shut up while you do something. 2. Say your line.
Try doing something before every line. It can be so quick that we don't even notice it happened or you can milk it for all you can if the audience is laughing. But keep that timing clean. If it gets sloppy and you just smudge through from one bit to the next, you probably won't get your laughs.
The fastest way to kill a laugh is to have someone move on your set up. Please don't just count on the lines getting you your laugh. It's everything around the lines that's usually the funny stuff. When I work with folks new to comedy, I might spend 20 minutes on the first few lines putting all the timing and shtick (funny business) into the scene.
So please forgive me when I suggest you shut up as a direction. I only mean it to help kick your butt into doing something wonderful. And now you're probably hoping I'll shut up. OK.
Use your newfound beats on your next commercial audition by browsing our commercial audition listings! And for more great advice from Hartt, watch the video below.
The views expressed in this article are solely that of the individual(s) providing them,
and do not necessarily reflect the opinions of Backstage or its staff.