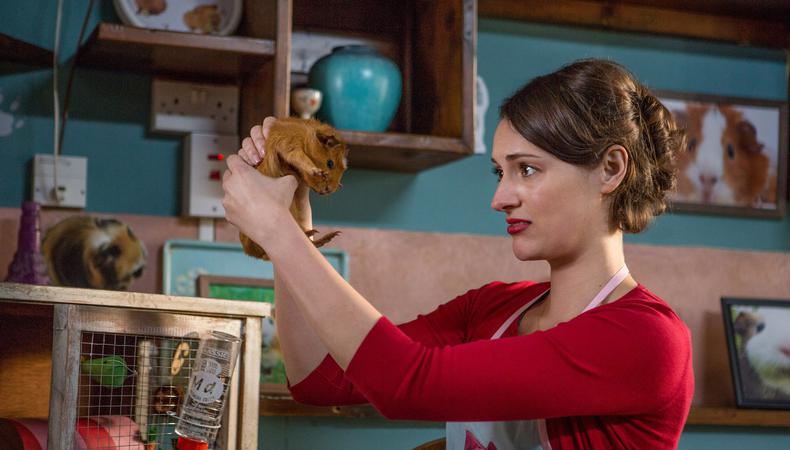 "Fleabag," the uproarious Amazon Studios comedy, came about thanks to a combination of peer pressure and "shits and giggles," says creator Phoebe Waller-Bridge.
The London-based actor-writer was asked by a friend to perform 10 minutes of original material at a local Fringe show, she remembers. "I'd written a few short plays but hadn't written anything near a standup, solo thing. The idea was it had to be somewhere between the two. I said, 'No, absolutely not, that's terrifying.' "
But after deciding to give it a go, Waller-Bridge followed an impulse to create what she describes as "this really dry-witted, dark-humored, naughty, sexually voracious, unapologetic, broken woman." Those first 10 minutes proved a success, leading to an hourlong 2013 Edinburgh Fringe hit, runs in London and South Korea, and eventually a TV adaptation with BBC Three and now Amazon.
"Fleabag" follows Waller-Bridge as the titular character, a wayward young woman improvising her way through life in London—and addressing the camera while doing so. The pilot episode, for example, finds her interrupting a postcoital conversation with a fling to ask the audience about the logistics of anal sex.
Going from 10-minute stage act to buzzy TV series was, of course, the last thing Waller-Bridge expected. "When you're writing your theater play," she says, "you shouldn't be thinking about it like it might be a film or TV show." Should that project have the opportunity to fit another medium, she adds, your job is to realign the story's fundamental truths. "Trying to write something that would fit all boxes, you'll get lost."
In the case of the pilot, Waller-Bridge had to shift the stage play's direct address to generate an intimacy within the format of a sitcom. "[We were] still working closely to the idea of the unreliable narrator," she explains. At the beginning, the character wants complicity with the audience, "and then that complicity becomes complicated toward the end and you feel like she's trying to keep up her front." When Fleabag reveals a previous trauma, a startling admission of vulnerability, her raunchy antics come into sharp focus.
READ: How to Become a (Successful) Playwright
"As she brings you closer and closer into her personal life, she starts to kind of regret bringing you in because of how much pain there is and how she can't escape the camera," says Waller-Bridge. "And by the end, there's a sense that she let them in too much."
But then, in the episode's final moments (spoiler alert), the character pivots again, confident as ever. Is she really OK?
"No!" exclaims Waller-Bridge with a laugh. "But that's exactly the question I wanted to be in the audience's mind the whole time." The laugh-out-loud moments early on also help implicate the viewer, she says. "I always feel if you can get an audience to laugh, you can do pretty much whatever you want with them. They just expose their hearts to you so quickly when they laugh. So I take that vulnerability and throw that back in their face. Also, the character does deplorable things and seems like she's potentially a bit of a dick. But if she's making you laugh, you'll forgive so many things."
When it comes to advice for other artists hoping to generate their own writing and acting material, Waller-Bridge underlines the importance of collaboration. To prepare for Edinburgh, her producer practically locked her in a room until it was finished. Vicky Jones, her best friend and longtime director, guided the play's journey every step of the way.
READ: Sharon Horgan on Creating Season 2 of 'Catastrophe'
"Have somebody there to constantly have their eye on the character," Waller-Bridge advises. Solo shows in particular, she adds, need a director to avoid making the production a showcase for an actor's personal skills. "The character comes first. Obviously use your strengths as much as you can, but don't let it become sort of an all-singing, all-dancing version of you. Find your partners in crime. The more minds and hearts in it, the better."
And in terms of writing, she says, just go for the truth. "Write the most truthful thing you can possibly write—until it kind of burns your heart. People will always pick up on that."
Inspired by this post? Check out our television audition listings!