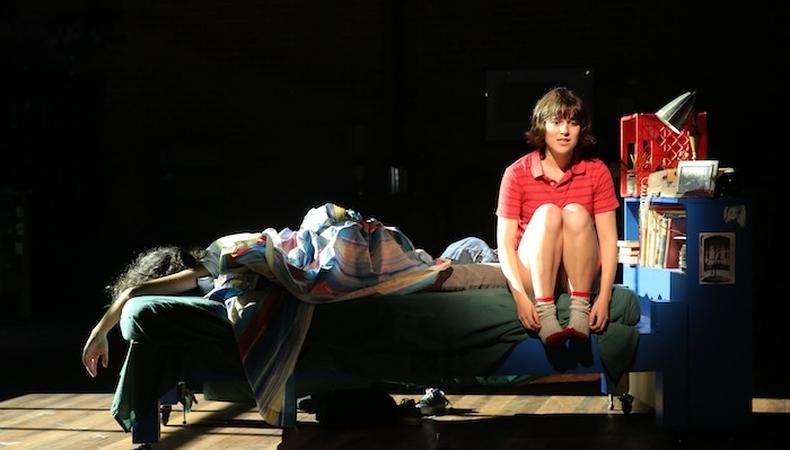 Before Alexandra Socha auditioned for "Fun Home," the casting director called her agent, somewhat concerned.
"Does Alexandra know what the role is?" the casting director asked, according to Socha. The casting office largely knew her from her work as the feminine Wendla in "Spring Awakening," and playing a 19-year-old tomboy who struggles with coming out to her parents in "Fun Home," based on the graphic novel of the same name by Alison Bechdel, seemed like a stretch. But Socha was up for the challenge.
"I can show them that I'm not what they think I am!" Socha says of her mindset for the audition. "I don't think I'm as girly as people think I'm going to be. I'm kind of a good hybrid. Most people have seen me—I think because I'm small, I have a young-looking face—as an ingénue. I really love doing roles like that, but there is this other side of me that really loves jumping out of my own skin and being really different."
With book and lyrics by Lisa Kron and music by Jeanine Tesori, "Fun Home" chronicles Alison's relationship with her father and her life growing up in a funeral home. The Public just extended the musical's run through Nov. 17.
Put yourself in the audience's shoes.
Socha is in a unique position approaching "Fun Home" as she actually had the chance to see the show as an audience member before ever auditioning for her role. Socha was in the acting company at the Sundance Theatre Lab in 2012 while Tesori, Kron, and director Sam Gold were workshopping the musical. "It's so great to remember what I felt like when I saw the show as an outside party," says Socha. "As we're trying to develop it, I just want to make sure the audience has the same reaction I had when I first saw it."
Dress like the character.
Socha plays middle Alison—the novel's author during college, when she first comes out as a lesbian—and she has been with the show since its Public Lab production last fall. Knowing the role was outside of her usual type, Socha made a concerted effort to transform herself for her audition. "I wore the most boyish-looking jeans I had, and I wore a men's T-shirt tucked into my pants with a belt. I wore my hair in a low ponytail and put no makeup on," says Socha, adding that she bought clothes for rehearsals to maintain the character throughout the process. "It's not how I dress every day so it definitely helped me get into the character."
Make it new.
Socha says she was initially scared to play Alison because she's a real person, and during one of the dress rehearsals for the Lab production, the real-life Bechdel was in the audience unbeknownst to Socha. "I remember being on stage, and I looked in front of me and all of a sudden I was staring at Alison Bechdel and I was like, 'Oh my god! I'm on stage playing you,'" remembers Socha. "It was very weird." But Socha acknowledges she can't become obsessed with copying Bechdel's every movement and instead must focus on the character. "You can't be concerned with doing an exact replica of her," she says. "I could copy every single mannerism she has, but if I don't get our story across, none of that will matter. And I think she understands it's a show, and there's also three of us playing her. It's more important that the three of us are like each other than we are like the real Alison Bechdel."
Say it like it is.
Socha says she's so grateful to have a director like Gold guiding her in her performance. One of the things she appreciates most about Gold's process is how he doesn't sugarcoat anything. "He's not mean by any standard, but he is so direct," she explains. "It's like, this what he wants, and at first, that was kind of shocking to me, but I now love it. Don't dance around it. Tell me exactly what you want and I will try my best to do it."
Be natural.
Another great piece of wisdom Socha gleaned from Gold is to be natural as an actor and not over-the-top, as is necessary in some musicals but not in "Fun Home." Gold told the cast: "An actor's job is to have the thought the character is having at the moment the character is having it." "Obviously that sounds so easy, and of course it isn't, which is why we work so hard at getting to that point," says Socha. "It's such a good thing and freeing thing to know I just have to do it and be in it. If the audience isn't laughing, it's fine. Just tell the story and everything will turn out all right."
Try everything.
"I've always been really open to trying anything," says Socha, whose already robust career spans musical theater, straight plays, and television. "The first thing I did was a big Broadway musical, but I remember when I first signed with my agent, she was like, 'What do you want to do?' I was like, 'Everything, why not?' The stage is definitely my home. All the TV work has been really awesome and hard and such a great learning experience, and I really enjoy it. When I'm doing something on stage that's when I feel right about the world."