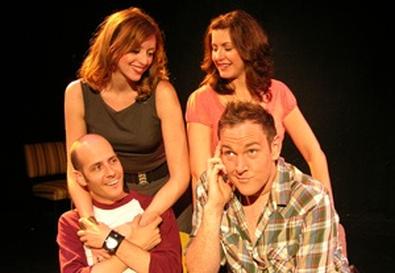 This whimsical Pirandelloesque tuner makes its Los Angeles debut following enormous buzz. So it's surprising to discover that above all it's an undemanding exercise in giddy fun. The more one loves the Broadway musical and its history—and the more one knows about both—the easier it will be to fully appreciate this show. Yet there are rewards here beyond the esoteric. Director Michael A. Shepperd's flawlessly cast and skillfully staged production is as witty, charming, and accessible as any cheekily idiosyncratic show within memory.
In 2004, songwriter Jeff Bowen and book writer Hunter Bell embarked on writing a musical in just three weeks, to meet the submission deadline of the New York Musical Theatre Festival. They decided their musical would be about the writing of that musical—a chronicle in song of their experience in meeting the crash deadline.
In an era in which reality TV is a significant cultural signpost, Bell and Bowen don't miss a beat in finding ironic humor in a house-of-mirrors show about the creation of said show. The awareness of the characters—Jeff (Jeffrey Landman), Hunter (Micah McCain), and their two friends Heidi (Carey Peters) and Susan (Jennifer R. Blake)—that they are toiling on a work in progress, while taking a step back to watch themselves at work, leads to mind-bending gags. Predictably, there are groaners here and there, when the jokes become gimmicky, but by and large the zany humor of the material hits a bull's-eye. Meanwhile, the hilarious comments that show queens Jeff and Hunter make about Broadway trivia, recalling historic Broadway flops—such as "Bring Back Birdie"—are ambrosia to the ears for those familiar with the debacles.
Shepperd's four-member ensemble—five if you count music director–accompanist extraordinaire Gregory Nabours, who also becomes a character—has great fun with the material. The singing is first-rate, beautifully serving the catchy and clever songs, and the players deliver the priceless repartee with precision and gusto. This show likely won't have a lengthy shelf life—it seems very much a here-and-now phenomenon. But it has launched the careers of a gifted writing team we are certain to hear from again.
Presented by the Celebration Theatre in association with David Elzer at the Celebration Theatre, 7051-B Santa Monica Blvd., Hollywood. July 16–Sept. 5. Thu.–Sat., 8 p.m.; Sun., 3 p.m. (323) 957-1884. www.celebrationtheatre.com.