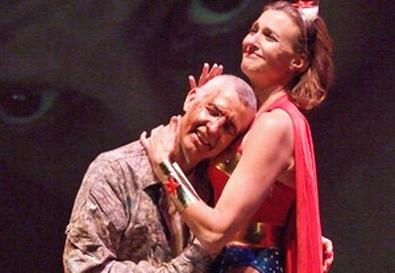 Redux, indeed. Shakespeare's "Titus Andronicus" is modernized and retold weaving in strands of the original in this inventive work conceived, choreographed, and directed by John Farmanesh-Bocca and incorporating his films that enhance and fit seamlessly into the story. After a filmed introduction showing bodies flown home in the hold of a military jet, we see the high-ranking officer Titus returning from 10 years and five tours of duty, arriving at his prim clapboard home, clutching the boxed ashes of his soldier-son. Let the bloody deeds begin.
This Titus and Tamora are married, if not happily so. Their blended family includes his daughter Lavinia and Tamora's two sons Demetrius and Chiron. Titus' brother Marcus is an electioneering politician, as shown in a witty film shot as a commercial. And Aaron is a Moor, here not "black" but a Muslim.
This is Farmanesh-Bocca's piece (he also designed the sound with Adam Phalen), but there's no trace of his ego anywhere. He has turned the starring role over to Jack Stehlin, who makes Titus a stiff-backed soldier and a grade-A wacko. Stehlin is as gifted with the production's Shakespearean text as he is with the dance-combat, the comedic moments on film, and the silent moments of impending insanity. Opposite him, Farmanesh-Bocca's well-drawn Aaron is merely a sweet dad with one of those inevitable crushes on his neighbor's wife. In the Andronici's presumably safe garden, Lavinia plays a tiny, red (of course) piano and sings in a little-girl, caterwauling, Joanna Newsom voice while Demetrius and Chiron appear on film, watching her from the trees. Lavinia is played by Margeaux J. London with a paradoxical mix of childlike freedom and the sad burden of a sick family—including her stepbrothers, played by Dash Pepin and Vincent Cardinale. The trio of young actors is not only deeply adept in language and interpretation; they startle with their physical theater chops, which include athletic familial disputes and a horrifying rape scene that is highly stylized yet hugely affecting. Nicholas Hormann gives an imposing portrayal of Marcus. Only Brenda Strong lets a declamatory style of "Shakespearean delivery" spoil her otherwise regal Tamora; but she is a wickedly comedic highlight when mother and sons dance to "Danke Schoen" and then get into disguise as modern superheroes Revenge, Rape, and Murder.
In a coincidence of timing, while the audience drove home, a radio report was airing about a current case of rape, mutilation, and murder. Apparently, this fearful slumber has no end.
Presented by Circus Theatricals and Not Man Apart Physical Theatre Ensemble at the Kirk Douglas Theatre, 9820 Washington Blvd., Culver City. Aug. 29–Sept. 12. Tue.–Sat., 8 p.m.; Sun., 7 p.m. (877) 369-9112. www.circustheatricals.com.