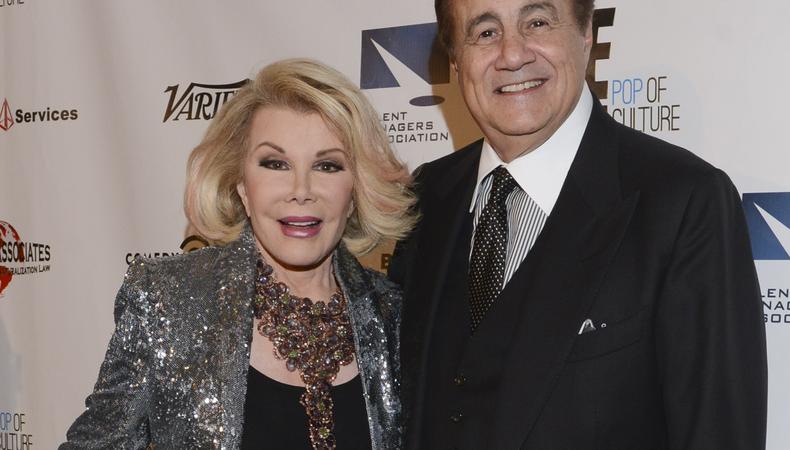 Although the invite states that no performers are allowed, that couldn't stop Joan Rivers and William Shatner from coming to honor managers, agents, and casting directors at the 12th Annual Talent Managers Association Heller Awards at the Beverly Hilton Hotel on Sept. 19.
The evening began with a musical act and then proceeded to the special awards. The Lifetime Achievement Award was presented to Larry Thompson by two of his clients—Rivers and Shatner. Rivers noted that Thompson bridges old Hollywood and current Hollywood: "What he doesn't know, he goes out and learns and then he embraces it totally." She went on to explain the difference between agents and managers, "Agents see you for what you do at the moment; managers see you for what you could do." Shatner also had words of praise for his manager, but joked about their first meeting when he questioned Thompson: "Why do I need a manager? Fifteen percent to the manager, 10 percent to the agent, 5 percent to the business guy, 50 percent to the government; think about the ex-wives. If I work I'm going to owe money." In his acceptance speech, Thompson offered some words of wisdom. "I've learned that you can't get hit by lightning if you're not standing out in the rain," he said.
Other special awards included the Heller Impact Award presented to Pam Dixon by Gale Ann Hurd (via video) and Deborah Calla. Dixon spoke about the Media Access Awards and helping casting directors to find and employ disabled actors. Rick Najera presented Fern Orenstein (VP of Casting, CBS) with the Heller Luminous Award, and the Pat McQueeney award was presented to Dolores Robinson by her daughter Holly Robinson-Peete. Robinson-Peete spoke about how her mother moved them from Philadelphia to L.A. and managed to blaze a trail for women and African-Americans in the management industry. Finally, the TMA Manager of the Year award was presented to Annet McCroskey by Myrna Lieberman and Addison Riecke.
Winners of the evening included Iris Grossman (Paradigm), Emily Urbani (Osbrink Agency), Hugh Leon (Coast to Coast Talent Group), Mickey Shera (Innovative Artists – NYC), Carol Lynn Sher (CESD Talent Agency), Sarah Finn (Sarah Finn Co.), April Webster (April Webster Casting), Michael Sanford (Sanford Casting), Gina Gallego (Wendy O'Brien Casting), Melissa Berger-Brennan (CESD Talent Agency), and Ivy Isenberg (Ivy Isenberg Casting).
Actors had many words of thanks for the agents and managers when presenting awards. "There's so many people that get recognition for being in front of the camera, but we wouldn't be where we are without people behind the camera, without my agent calling me up and being my shoulder to cry on, and my punching bag sometimes as well, then I wouldn't be here today and I wouldn't be doing the work that I'm doing," presenter Tom Pocock ("X-Men Orgins: Wolverine"). Grant Show ("Devious Maids") noted "Whatever amount of success an actor achieves, he never does it alone." And Katherine Lanasa ("Longmire") said, "It just really makes a difference if you have someone that believes in you behind you. Some of the best jobs I've gotten, the people didn't believe that they should see me and my agent talked them into it." The theme that ran through the acceptance speeches was that of collaboration. Agents, managers, casting directors, and actors all agreed that collaboration is what makes their jobs possible.

2013 TMA Heller Awards Nominees
*Winners in bold*

ADULT THEATRICAL AGENT
Mike Baldridge (Momentum Talent & Literary Agency)
Matt Jackson (Rebel Entertainment Partners, Inc.)
Jay Schachter (Prestige Talent Agency)
Steve Alexander (Resolution)
Iris Grossman (Paradigm)
Jerry Kallarakkal (DDO Artists)

YOUTH THEATRICAL AGENT
Meredith Fine (Coast to Coast Talent Group)
Emily Urbani (Osbrink Agency)
Nicole Jolley (Amsel, Eisenstadt & Frazier Talent Agency)
Pamela Fisher (Abrams Artists Agency)
Stella Alex (The Savage Agency)
Mitchell Gossett (CESD Talent Agency)

ADULT COMMERCIAL AGENT
Angela Strange (The Osbrink Agency)
Hugh Leon (Coast to Coast Talent Group)
David Ziff (CESD Talent Agency)
Nancy Luciano (Luciano-Reeves Talent)
Carol Elsner (The Gage Group)
Mickey Shera (Innovative Artists – NYC)

YOUTH COMMERCIAL AGENT
Carol Lynn Sher (CESD Talent Agency)
Jeremy Apody (Abrams Artists Agency)
Dawn Osbrink (The Osbrink Agency)
Sydel Lisi (Coast to Coast Talent Group)
Brad Diffley (Mavrick Artists Agency)
Jody Alexander (Clear Talent Group)

FEATURE CASTING DIRECTOR
Sarah Finn (Sarah Finn Co.)
Ricki Maslar (Ricki Maslar Casting)
Randi Hiller (Walt Disney Studios)
Denise Chamian (Denise Chamian Casting)
Kim Coleman (Kim Coleman Casting)
Kim Hardin (Kim Hardin Casting)

TELEVISION CASTING DIRECTOR
Junie Lowry-Johnson (Junie Lowry-Johnson Casting)
Suzanne Goddard-Smythe (Goddard-Smythe Casting)
Scott David (Scott David Casting)
Judy Henderson (Judy Henderson & Associates Casting)
Carol Goldwasser (Carol Goldwasser Casting)
April Webster (April Webster Casting)

COMMERCIAL CASTING DIRECTOR
Michael Sanford (Sanford Casting)
Francene Selkirk (Francene Selkirk Casting)
Craig Colvin (Craig Colvin Casting)
Ross Lacy (Ross Lacy Casting)
Alyson Horn (AHC)
Shane Liem (Shane Casting)

ASSOCIATE CASTING DIRECTOR
Gina Gallego (Wendy O'Brien Casting)
Debbie George (Scott Genkinger Casting)
Mike Page (David Rapaport Casting)
Tamara Hunter (Sarah Finn Co.)
Peter Pappas (Valko/Miller Casting)

VOICEOVER AGENT
Maureen Rose (The Osbrink Agency)
Tim Curtis (WME)
Melissa Berger-Brennan (CESD Talent Agency)
Portia Scott Hicks (Coast to Coast Talent Group)
Ann Wright (Ann Wright Reps)
Izzy Arias (WME)

TELEVISION/FEATURE ANIMATION CASTING DIRECTOR
Bonnie Pietila (Twentieth Century Fox Film Corporation)
Sarah Noonan (Nickelodeon Casting)
Ivy Isenberg (Ivy Isenberg Casting)
Scott Muller (Scott Muller Casting)
Leslee Feldman (Dreamworks Casting)
Natalie Lyon (Pixar Casting)

TMA Manager of the Year
Annet McCroskey

2013 Heller Impact Award
Pam Dixon

2013 Pat McQueeney Award
Dolores Robinson

2013 Heller Luminous Award
Fern Orenstein

2013 Heller Award Lifetime Achievement in Management
Larry Thompson