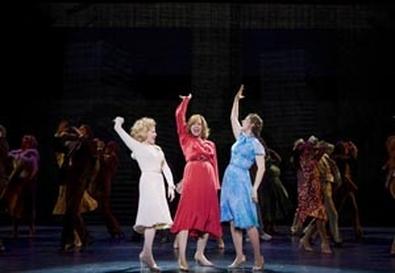 George Abbott–style musical comedy is alive and still breathing at the Marquis Theatre. Blessed with a terrific company of comic actors and led by three absolutely stellar performances, 9 to 5 is unquestionably entertaining and likely to be pleasing Broadway audiences for some time. It also has a dexterous physical production that allows it to move like a musical comedy should. If only the creators had applied the legendary Mr. Abbott's rigorous standards, they might have had a show for the ages. Instead, we have to settle for the not inconsiderable pleasures available.

Who isn't familiar with the story of three secretaries who get to live out their revenge fantasies about their smarmy, misogynistic boss and save their office world at the same time? The 1980 film was a huge hit and featured three iconic comic performances. The good news is that Allison Janney (in Lily Tomlin's role of Violet), Megan Hilty (as Dolly Parton's Doralee), and Stephanie J. Block (playing Jane Fonda's Judy) all honor the memory of the original performances while making the characters triumphantly their own. They also exhibit terrific chemistry with each other, so important in a feminist story of sisterhood empowered, and Hilty and Block sing like a dream. Janney, of course, is not known for musical comedy, but she reveals an attractive if modest voice and, most important, she sounds like Violet should sound in song. In addition, she understands the size musical comedy requires without ever sacrificing her great gifts as an actor. Indeed, those gifts serve as the show's anchor. The reliable Marc Kudisch finds considerable comedy in the one-note role of the chauvinist boss. But, like the film, 9 to 5 belongs to the ladies.

And to its crack supporting cast, particularly Kathy Fitzgerald as Roz, the overweight secretary hopelessly devoted to the boss, and Ann Harada and Karen Murphy as two very different office workers. On the nondistaff side, despite Andy Karl's and Charlie Pollock's winning ways as Violet's love interest and Doralee's husband, both roles come off as afterthoughts. As for the ensemble, each of these superb dancers and singers creates a distinct person, making this office feel honestly populated and giving the show much-needed texture.

Andy Blankenbuehler's choreography does well in the office scene changes, creating a unique physical style that seems to reference 1970s disco moves but incorporates the frustration of these unhappy workers. Unfortunately, his work in the production numbers is never more than serviceable. Director Joe Mantello marshals his forces confidently and must be given credit for the excellent performances, but he also makes some head-scratching mistakes. Why, in Judy's revenge fantasy, does he allow Blankenbuehler to re-create a comic moment between Roz and her boss that Judy didn't observe and couldn't be privy to? And why stage Judy's big song, "Get Out and Stay Out," sung to her ex-husband, with Judy physically forcing him to stay? The mixed signals undercut the moment.

Mantello has also been unsuccessful in coaxing a theatrically savvy score out of songwriter Parton, who clearly defines rhyme strictly in terms of similar vowel sounds and whose songs tend to take one idea and repeat it. Nor has he gotten book writer and original co-author Patricia Resnick to sufficiently rethink her work. The show retains the plot implausibilities and ramshackle structure that hamper the film.

But Parton's undistinguished songs are at least pleasant, and Resnick did create the wonderful comic archetypes that allow the stars to shine. 9 to 5 aims low and hits its target squarely. And that's the difference between creating a classic and just a fun but evanescent night out.

Presented by Robert Greenblatt, Green State Prods., Richard Levi, John McColgan/Moya Doherty/Edgar Dobie, James L. Nederlander/Terry Allen Kramer, Independent Presenters Network, Jam Theatricals, Bud Martin, Michael Watt, the Weinstein Co./Sonia Friedman/Dede Harris, Norton Herrick/Matthew C. Blank/Joan Stein, Center Theatre Group, Toni Dowgiallo, and GFour Productions

at the Marquis Theatre, 1535 Broadway, NYC.

April 30–Sept. 6. Tue., 7 p.m.; Wed.–Sat., 8 p.m.; Wed. and Sat., 2 p.m.; Sun., 3 p.m.

(212) 307-4100 or www. smarttix.com.

Casting by Telsey + Company.